Nabil Hayari's Delicious Perfumes; Fabricator of dreams, magician with fabric, Nabil Hayari was catapulted at an early age to the upper reaches of the Parisian fashion world.
The couturier was captivated from an early age by textiles, clothing, and design.  After attending one of France's prestigious fashion schools, he caught the eye of the École de la Chambre Syndicale de la Haute Couture Parisienne, and soon became the creative director at a fashion house in Paris' Golden Triangle, the area around  Rue François Ier, Rue Pierre Charron, Rue Marbœuf, and, of course, the legendary Avenue Montaigne.  Tucked into this rarefied neighborhood is a banquet of designer clothing,  glittering accessories, dazzling jewelry, fragrant  perfumes — and shops and ateliers among the most celebrated in the world — Givenchy,  Louis Vuitton, Rochas, Dior, Celine, and Chanel, to name but a few.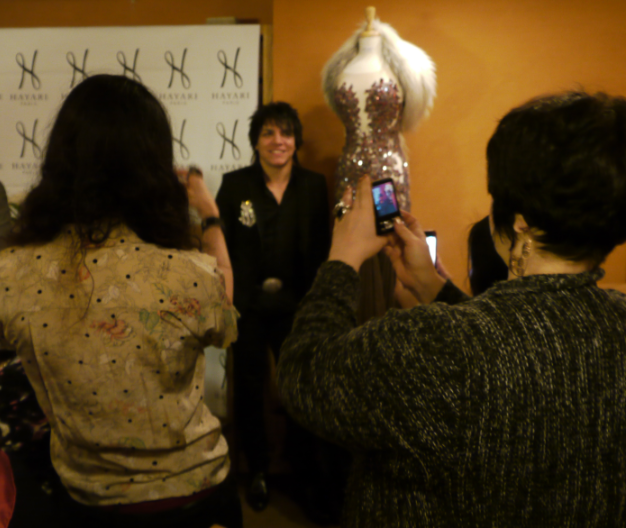 His tools are lace, chiffon, shimmering beads, luminescent crystals, luscious satin, and undulating silk, and with them he creates sensational one-of-a-kind entrance gowns. It didn't take long 'til he made the leap to the world of scent, and in 2010 he introduced his signature fragrance, Only for Her. Today he has three scentsational perfumes, Goldy, Broderie, and the first, Only for Her, which is seductive, dynamic, and sparkling, with an essence of grapefruit, Egyptian jasmine e, peony, and magnolia. Goldy reflects a warm, powdery, and woody glow. White jasmine, orange blossom, and sandalwood permeate. And the lovely Broderie (embroidery, in French, underscoring the designer's love of his rich palette of textiles) is naturally inspired by the delicate fabrics Hayari works with. The scent is elegant, feminine, and sensual. There is lily and gardenia, amber, and patchouli, all of which combine to create a heady scent. The fragrances sell for $145 for a 1.7 oz bottle and are available at C. O. Bigelow apothecary in New York City.
And as an added incentive for you to check out Hayari's amazing fragrances, you have five more days to get to Bigelow and make a bid on one of Hyari's couture dresses. A Valentine's Day scarlet confection, the, the gown is a one‐of‐a‐kind exclusive frock. C. O. Bigelow will feature the flame-red gown in its window until the end of this week, and as an added incentive for passersby to bid on the gown, Hayari has pledged 100% of the proceeds to the American Heart Association. The one-shoulder, silk-satin entrance‐maker frock is designed in bold poppy and features a layer of chiffon and embroidered Chantilly lace that is generously accented with Swarovski crystals. The retail price for the gown is $11,500; minimum bid $3,500.
Posted on March 05, 2013 – by Ruth J. Katz