« The inspiration for this fragrance is embroidery and lace, which Mr. Hayari uses within his collections, because they have been the most elegant and glamorous textile for centuries. As such, it evokes delicacy, femininity, sexiness, glamour and oh so French! »
Ultra-feminine, dreamy and romantic?
Women who wear Broderie by Hayari Paris are not afraid to reveal the delicate side of their dazzling beauty. Feminine and elegant in all circumstances, these women have a complex personality and unique character which is brilliantly expressed through a majestic blend of grace and freedom. With this rich and subtle fragrance, HAYARI Paris tenders a new ode to absolute femininity.
Resolutely luxurious, this perfume created by Nabil Hayari and inspired by his passion for women combines the symbols of purity and fidelity which are, respectively, lily and gardenia. These delicate fragrances are completed by the powerful and sensual fragrances of sandalwood, amber and patchouli. Surprising and captivating, this perfume is an unforgettably fragrant experience.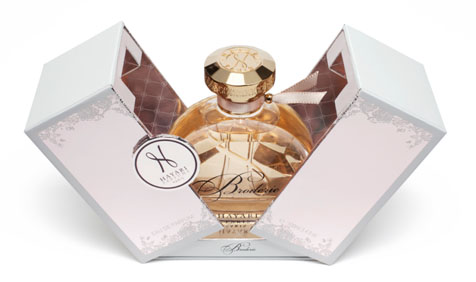 Broderie – a precious and ultra-feminine scent – the name in itself is a tribute to tradition and savoir-faire. Beneath its fragrant notes lies the promise of high quality substance and an exceptionally elegant style. It is the perfume of a refined woman who also has a wild side, a modern woman who, while strong, defends her values in the same way as she gives her love: with a gentleness and a charm which make her quite simply, a heroine.
Le Parfum (18%)  50 ml/1.7oz, Eau de Parfum (15%)  100 ml/3.4oz