May 8, 2013 Sniffapalooza Spring Fling 2013 Wrap-Up- Weekend with The "In" Crowd, ça fleure bon.
If you like watching the television game show Jeopardy! you will know what it means when there are letters in quotes in a title. The title Weekend with The "In" Crowd means all of your answers will begin with the letters I-N. I'm not clever enough for coming up with the entire scenario but you get the idea. I'm going to have a little fun as I use this Jeopardy! motif to frame my wrap-up of this past weekend's Sniffapalooza Spring Fling in NYC.
So for $200 we begin with the new "In"ternational Ambassador for the UK's GREAT Campaign, Roja Dove. Roja Dove was the last presenter at the kickoff breakfast at Bergdorf-Goodman as his Roja Parfums finally find a place of their own in the US. To be able to have these incredible perfumes on this continent would have been enough but Mr. Dove is one of the best spokespersons fragrance has. He has a passion that is "in"fectious and as he spoke about his aesthetic and his fragrances he "in"fused a sense of excitement into those trying these creations for the first time. I am particularly happy that the two extraits of Vetiver and Gardenia have made the trip from Harrod's to B-G. The Vetiver Extrait is what I think Guerlain Vetiver would smell like if an extrait version of that existed.
 Hayari Couture Dress
For $400 we move on to the "in"credible speakers at lunch. Amy Marks-McGee of Trendincite took us through her thoughts on upcoming trends. The quick summary is to expect a lot of the word "flash" in product names along with a lot of sweet notes in fragrance led by honey, cherries, and apricots. We then were treated to the announcement of the "Fragrance Mentorship Program" by Laura R. Barton. Ms. Barton is trying to create a community of mentors and mentees which cover just about anything to do with fragrance and the business around fragrance. This is an exciting opportunity for those "in"terested in fragrance to find someone to give them a helping hand. Barb Stegemann teased everyone for "The 7 Virtues" cocktail party later with her beautiful positive energy. The standout moment came from Francois Damide who as he was describing the Hayari perfume line had a model working the room in a piece of Hayari couture.
For $600 we move on to the "in"digenous ingredients used in the British perfume line called Union. Perfumer Anastasia Brozler was at Henri Bendel introducing the five fragrances in the line to the crowd. I really like the unique vibe they all have and think this is a standout new line worth experiencing. Another fragrance line finding a new US home also using "in"digenous ingredients from Down Under was Tommi Sooni. This was another chance for the attendees to try a line they might have only heard about before attending Spring Fling.
Patricia Choux and Thorsten Biehl at Osswald on Sunday
For $800 we began Sunday with the "in"scrutable Thorston Biehl and perfumer Patricia Choux as they introduced the Biehl Parfumkunstwerks line of fragrances at Osswald. Herr Biehl and Madame Choux spoke about the amount of freedom Hr. Biehl gives his perfumers. Mme Choux shared her inspiration behind pc01 and pc02. I think that pc01 made a whole lot of new fans as the fresh green fragrance seemed tailor made for the season.
For $1000 we have advance "in"telligence of new fragrances from the perfume houses of Le Labo and Atelier Cologne. I have to be a little circumspect but I also have to share some of what I learned. The new Le Labo city exclusive was on display for us to try. San Francisco should get ready for a blast of Limette 37 by perfumer Frank Voelkl. At Atelier Cologne I got to try the upcoming fall releases and I can tell you that perfumer Jerome Epinette is working with precious metals and even more precious raw ingredients to make two fragrances that are going to shake up the way the Atelier Cologne bottles look and the idea of which notes go into cologne.
Francois Duquesne
For Final Jeopardy! we have the Eau de Sniffapalooza lunch where "in"dependent perfumers and "in"novations were put on display. The travel line of Nomaterra, was followed by a cavalcade of fascinating perfumes from the lines of Purusa, Pink MahogHany, Let Them Wear Green, and Nomad Two Worlds. Of the fragrances which were new to me Nomad Two Worlds Sea Spirit- Pearl which was composed by Michel Roudnitska was my new favorite although Nomaterra and Purusa had already found their way into my collection before the weekend. The final three speakers were Ed Libassi who showed off his new search application ScentTrails.com. It's like an online map application for perfume lovers. Blair Bloom showed off her Just Bloom Box which is a monthly box of samples for women in the Prime of Life (not youngsters). The final presentation was given by Francois Duquesne as he introduced The Fragrance Republic. The Fragrance Republic is meant to be an "in"clusive community of perfumistas, perfumers, and creative directors. By buying a membership you will have exclusive access to fragrances created only for The Fragrance Republic. They currently have a set of eight fragrances from star perfumers like Ralf Schwieger to young up and coming stars like Karine Chevallier. Each table got one of the eight to experience and try to identify from a list. As the MC I got to cheat and try them all. I have to say these are all above average to excellent perfumes and in the case of Ralf Schwieger's Ecume de Figue "in"credible is the word I would use. I am excited and "in"trigued about this "in"itiative and am hoping for its success.
When you get to the end of Final Jeopardy! you have to determine a winner but the best part of this game is all of us who attended were winners. As always, my thanks to Karen Adams and Karen Dubin for "in"cluding me in the festivities. I'll be back in the autumn for Fall Ball.
Mark Behnke, Managing Editor
All photos courtesy of Karen Adams via her Facebook page.
Surprise! The World Loves Hayari Paris!
By Afoma Eguh Okafor on May 14, 2013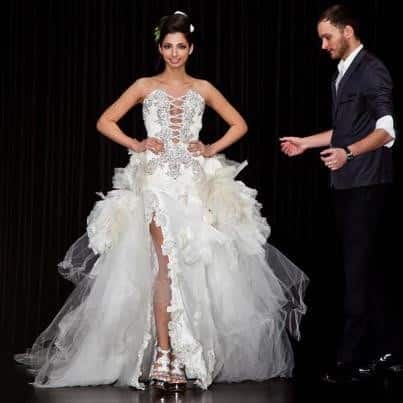 Couple of years ago, Hayari Paris established an outstanding Fashion house, in which Celebrities could revel in the kind of Fantasy they love. Luckily, this dream came true, and did not end just with Haute Couture gowns, but also realized in Perfumes. And It's hard to ignore the fact that only Women are the ones benefiting from Hayari's creations. First, the designers created the Haute Couture Gowns, shortly after, they made Hayari trio Perfumes, "Only for Her," "Broderie," and "Goldy," just for the wonderful World of Women. At this point, l must say, Men, don't be jealous, the designers already have plans for making exquisite collections for the Gentlemen!
Hayari collections are already the talk of the town, because the World Loves their creations! As usual, Creativity is free flowing when it comes to this Fashion House, because Nabil Hayari and Hugues Alard have established a way to satisfy their clients by establishing different ways to bring their collections closer to them. Although Hayari Paris is known for a lot of things, but mostly, they are known for their beauty and glamour. Also, they are known for their subtle, seductive, and enchanting collections, and are best appreciated as the most Fabulous Fashion House of our Time!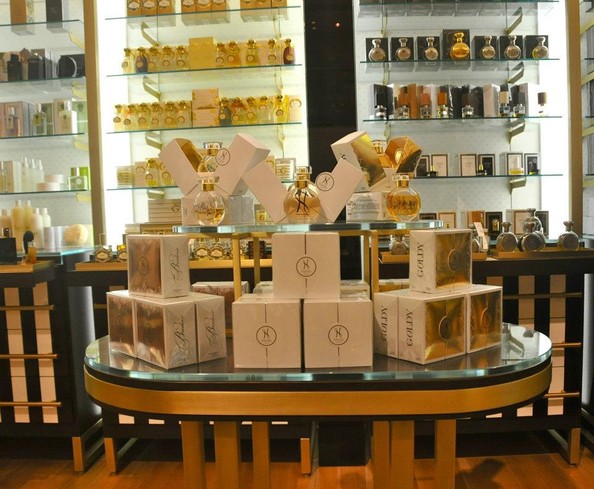 Henri Bendel, 712 Fifth Avenue New York!
The house of Hayari may be known for these beautiful things and much more, but it's Chic and Exquisite collections are very intriguing. So, ever wonder what it's like to walk into a shop here in United States and buy any Hayari Perfume of your choice? Now's your chance, in New York, at Henri Bendel Store on 712 Fifth Avenue. And in New Jersey, at Aveyou Beauty Store on 280 Norwood Avenue, Deal, New Jersey, 07723. And of course you can always order the perfumes online from www.bigelowchemists.com , www.henribendel.com, www.aveyou.com and www.hayariparis.com.
Hayari Paris isn't an unknown Brand  anymore,  but the fashion house is rolling out in international markets with a dramatic buzz these days. Hayari collections are just the kind of leading lights that American Entertainment Market wants. And that means Hayari Paris has plenty of lifetime to Live, and has become a hot spot for high profile Celebrities, Fashionistas, and Royals. The professional kudos of establishing the perfumes in United States  and Canada will have a lasting appeal for the Fashion House. It will allow the designers more flexibility to correspond with distributors from their Parisian Atelier.  We all know that through the years, New York, Milan and Paris have been the World's Fashion Capitals, and Hayari Paris have established their products in two out of the three World's Fashion Capitals. Surprisingly, this Fashion House is exponentially growing in show business and understand the needs of its players.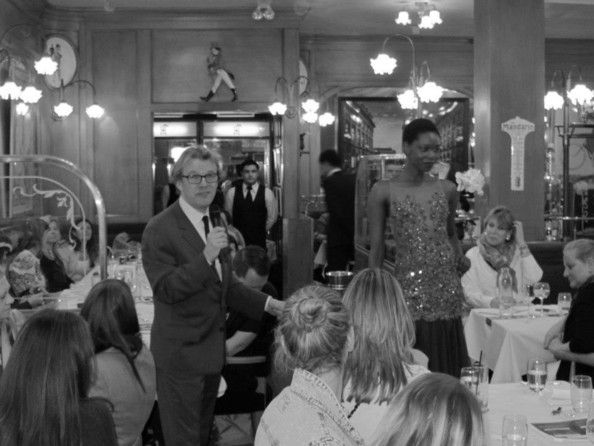 CEO of the Crafting Beauty, Francois R. Damide and Super Model Camilla Barungi at Benoit Bistro, New York.
Recently, Francois R. Damide was spotted in New York showcasing Hayari Haute Couture Gown, with Gorgeous Camilla Barungi as the model. And  l must congratulate Francois R. Damide for a job well done, by putting out Hayari Paris in these prestigious places making it possible for  the Clients both in US and Canada to have access to the fragrances  of their dreams!  Mr Francois R. Damide holds the exclusive rights for the Hayari Perfumes in US and Canada  and have done so well with the perfume business in a very short time!
              Super Model Camilla Barungi in Hayari Paris Gown at Benoit Bistro, New York!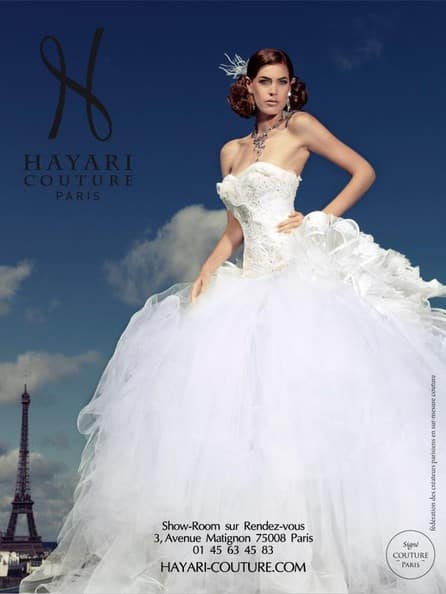 Contacts
www.bigelowchemists.com
www.Henribendel.com
www.Aveyou.com
www.HayariParis.com