Liliana Matthaeus in Hayari attends the Opening Ceremony 'Gravity' Premiere during the 70th Venice International Film Festival
German model Liliana Matthaeus arrives for the opening ceremony of the 70th Venice Film Festival and the screening of the movie 'Gravity' presented out of competition, on August 28, 2013 at Venice Lido. The Venice film festival kicks off today with the arrival of movie stars on water taxis for a dark line-up flush with fiendish tales of abuse, betrayal and survival. The world's oldest film festival opens with 'Gravity', a 3-D sci-fi thriller starring George Clooney and Sandra Bullock as astronauts who are flung into deep space when a debris shower destroys their shuttle.
Liliana Nova Matthaus was in Hayari Couture Paris for this event.
From Fashion.163.com    Liliana Matthaus is wearing Louboutin shoes with Hayari Dress
Sandra Bullock and George Clooney at the screening of Gravity at the 70th edition of the Venice Film Festival (AP): during the opening, Clooney not making eyes at Bullock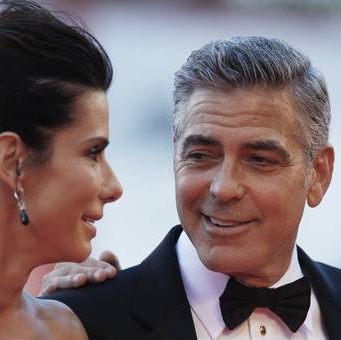 29 August 2013
Sandra Bullock is putting the kibosh on tabloid suggestions that George Clooney might be making the moves on her.
The Sun published a photo of the pair from the Venice Film Festival premiere of their new movie Gravity, saying that George was "making eyes" at his co-star.
Sandra said:: "He was not making eyes. Maybe cross-eyes, but that is about the extent of his goggle eyes."
Besides, she added, each has enough "dirt" on the other to command "a level of respect and understanding".
"I adore George," added the actress.
George said that he and Sandra have known each other before either had success in films "so there is no pretence. We are just friends"
Best other review in press:
– Findlaw
– Arkansasonline
– Bild.de
– Oe24.at
– N24.de
La Griffe Piu gettonate sul red Carpet in Venezia : Liliana Matthaeus con un abito Hayari Couture (Lapresse)
Dafür hat sie also in den letzten Wochen so gehungert!
Liliana Matthäus (26), die sonst eher mit ihrem Mager-Look auffällt, macht im Moment die Filmfestspiele in Venedig unsicher. Wie auch immer die Ex von Lothar Matthäus das auch geschafft hat – irgendwie hat sie es fertiggebracht, sich zwischen die Hollywood-Prominenz zu mogeln. Das gleiche Kunststück ist ihr schon in Cannes geglückt. Damals sorgte sie mit einem Schlüpfer-Blitzer für Aufsehen.
Neben dem Model-Sternchen flanieren auf der renommierten Preisverleihung in Venedig wahre Hollywood-Größen wie George Clooney (52) oder Sandra Bullock (48) über den roten Teppich.
Liliana Matthäus scheint sich von den Weltstars jedoch nicht einschüchtern zu lassen und posiert selbstbewusst vor den Fotografen. Und natürlich zeigt sie, was sie hat: einen klapperdürren Körper und auffällig pralle Lippen. Aber eines muss man ihr lassen: Irgendwie schafft sie es immer wieder, die Aufmerksamkeit auf sich zu ziehen…