The Plaza Athénée Paris hotel received the couturier Nabil Hayari for a beautiful photo shoot. For the occasion, three dresses were photographed, two sumptuous wedding dresses and a red evening gown, which was specially created by the stylist to honor the color and identity of this amazing Parisian Palace .
The choice of this partnership is obvious, since Hayari Couture and the Plaza Athénée share the same values , such as luxury, Parisian style and their location in the Triangle d'Or.
In 2003, the iconic Hotel celebrated its centenary. It's located on Avenue Montaigne, famous for its luxury boutiques. Since the day when it opened their doors, the Palace received very important clients like Grace Kelly, Gary Cooper and Jackie Kennedy.
With 208 rooms included 46 suites, we choose the Eiffel suite as the scenario for our photo shoot. In classical style, this suite was inaugurated in 2008 and named in tribute to the breathtaking view of the Eiffel Tower.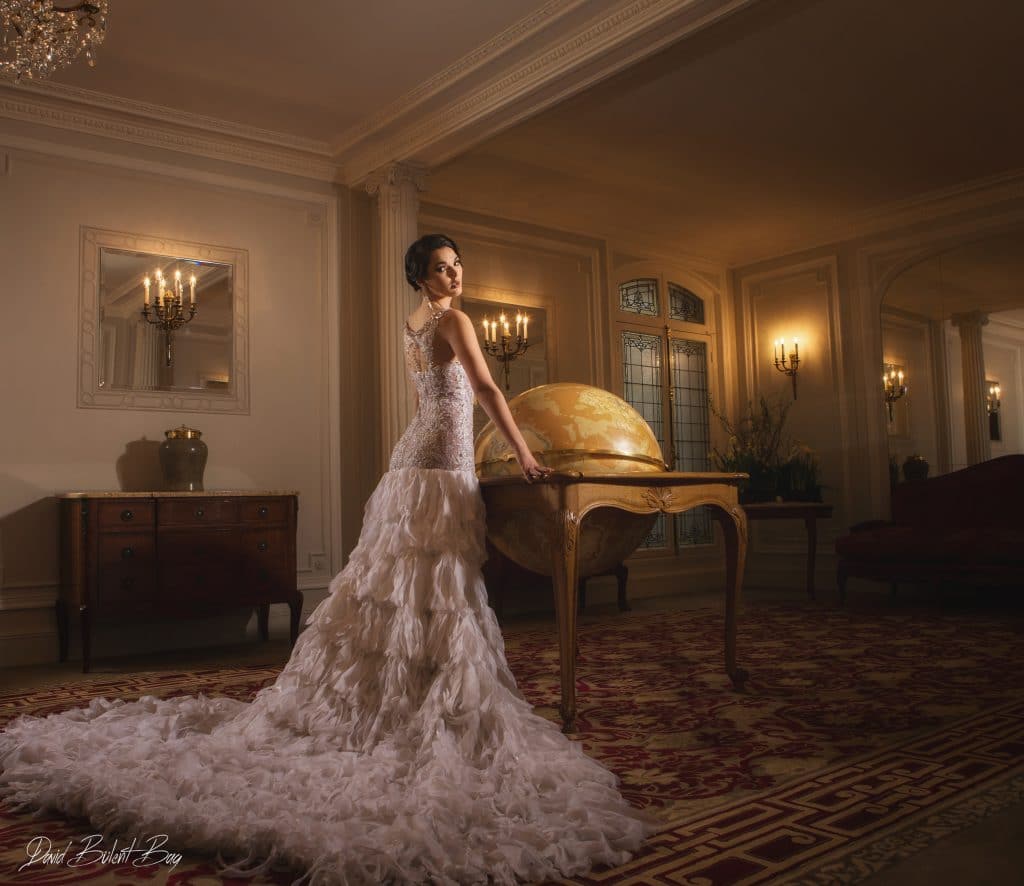 In 2003, the interior decorators Bettina Mortemard and Marie-José Pommereau were commissioned to decorate the rooms. The idea was recreate the spirit of private Parisian apartments.
The Plaza Athénée was awarded in 2012 the official French distinction of "Palace".
It has several restaurants and bars, including the famous Alain Ducasse at the Plaza Athénée, a contemporary restaurant in the French Haute Cuisine, led of course by Chef Alain Ducasse himself. He also oversees the entire food and beverage operations of the hotel.
With five elegant, sophisticated function suites, like the Haute Couture function suite,
Weddings are also prepared in the Plaza Athénée as a unique and precious moment in the lives of their customers, and are the dream's location for many women for the big day. This is why the designer Nabil Hayari chose two different dresses for this photo shot. The first is a mermaid dress, majestic and sensual, an embroidered lace's body with Swarovski crystal's body, with a silk organza skirt and a long tail. And the second is a "New look style" gown, with a waist marked by a black silk band, and a very full skirt in silk organza.
These beautiful shots were taken by the photographer David Bulent Bag and directed by Nazly Mendes, with whom Nabil Hayari had already worked. The models were prepared by the hairdresser Ayoub Sako and the makeup artist Zainab Razavy, both already very sought by Hayari Couture and the Plaza Athénée's customers.
To view larger photos please click on the images.