Hayari House of Paris stunned Hollywood, Califonia, with their undeniably classic iconic perfumes and adorable red carpet gowns during the 85th Academy Awards-Oscars 2013. We welcomed these enchanting designers from their Parisian Atelier to Hollywood where they led the Stars on a delightful flights of fancy flares. The lovely and gorgeous handcrafted and hand numbered trio perfumes made a glorious statement and as well created an exotic  display that captures everyone's attention. The dresses on the other hand manifested an elegant fairies in light celebrating the award season with glorious, and delicate elegance. The beautifully hand embroidered gowns featured the classic curved lines and elegantly free flowing styles. The luxurious hand numbered perfumes created an elegant majesty unique collections. Hayari's gowns and perfumes  are must haves for any celebrity. I must say live well, love much and laugh often is a secret of success. Wait until the perfumes are relished in the air, then an alluring quality with undeniable effervescent is what you experience.
Yes, these men worked tirelessly and relentlessly incorporating totally red carpet worthy gowns with their iconic trio perfumes. The perfumes of course as we all know are more than spectacular, they are  iconic and timeless, "Only for her,"  "Broderie" and "Goldy." Fragile they may be, but the floral perfumes possesses a delicate reckless allure that inspires passions. These men re-invented the French culture through their masterpiece creations.  And of course they re-introduced the gorgeous French way to walk the red carpet by styling the celebrities for the Award season. The powerful and mythical gowns features beautiful styling,  and a regal splendor of an Empress. The exquisitely-styled gowns have detailings that brings fabulous elegance, with softness perfect for any Princess.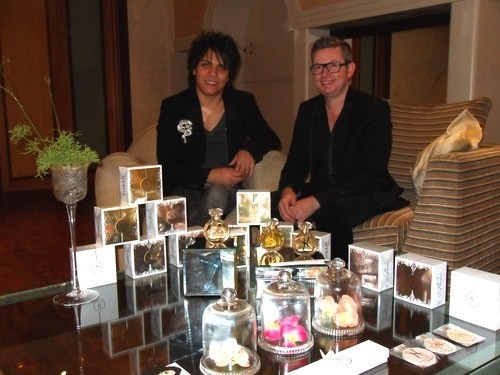 As philantropists, the designers made their first stop at Half the Sky movement, the women empowerment movement where they rendered their due support. They continued their quest by throwing a pre-Oscar party Bash for the celebrities at Andaz Hotel, West Hollywood, California. Being perfectionists and men of excellent Character, the party was tastefully done.  The combinations of the trio perfumes and gowns brings beautifully sophisticated aesthetics. They showcased the lovely trio perfumes which  usually make a great beautiful gifts for the loved ones. And the fabulous whimsical Hayari Gowns proves that fabrics are nothing but sexy and sensual. Most importantly, have you ever wondered what goes on in the World of Hayari Paris? My tip for you is they are destined beyond Luxe, and their unique sense of style is unusually wonderful. When it comes to sensational Red Carpet Gowns and Glamorous events, Hayari Paris can guarantee a breathtaking  experience to enthral your everlasting memories!
For these  Parisian designers, Nabil Hayari and Hugues Alard, it's been a long and winding yellow brick road for they are known for their faultless Styles. These men knows how to carve their own unabashedly over blown aesthetic and meticulously  designed gowns suitable for any occasion.  Hayari House of Paris, carefully and yet fearlessly hand picked a selection  of must-haves clothes in addition to the trio perfumes just for the award season. Since Fashion and Beauty goes hand and in hand, they made sure their choices matched with the right recipients.
For instance, amongst the many celebrities they adorned with their exquisite gowns is Melanie Mar.  Melanie Mar dazzled the red carpet with show-stopping, jaw-dropping gowns of  luxe embroidery, and crystal beading. She was adorned with gorgeous gowns incontestable in nature.
If you ask me why l attended the event, well, l was in attendance just to document the magical Hayari experience. Atleast, l saw when Melanie made  a choice of one of the gowns, the adorable white gown. And it was a gown definitely right for the moment. As always, l have become a bonafide witness to what these designers are up to, and styling Melanie Mar was nothing but extraordinary. A right dress for the right Princess, l must say………!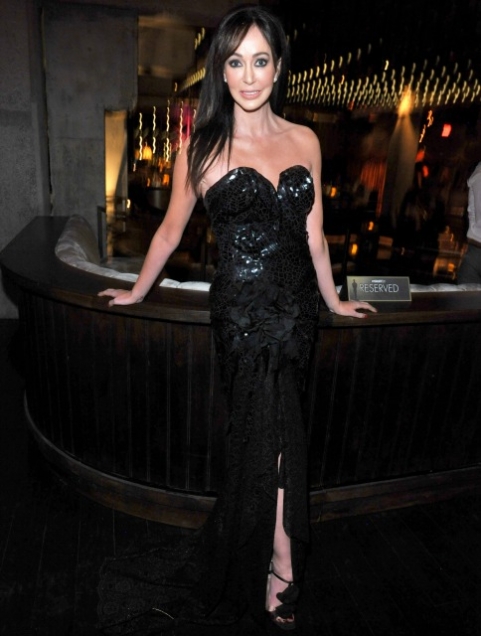 Ok MAgazine Party
Other celebrities also lined up for fitting during the party and they were garnished in different gowns for different events, and the designers, Nabil Hayari and Hugues Alard talked them through their Fantasy Hayari Paris collections.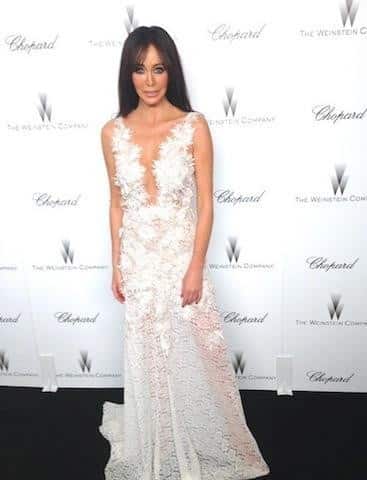 Melanie Mar attended Harvey Weinstein's Pre-Oscar party with this dazzling white Hayari Couture Gown. The shimmering luster and the irridescent texture is sure to satisfy the most discriminating taste. The dress gave Melanie a regal elegance, classic flair, sumptous and stylish contemporary look. Elegant  Lady Melanie was highly detailed and exquisitely adorned in this Hayari masterpiece.
Melanie in Hayari Couture Gown during the Tom Ford Fashion Bash in Beverly Hills, California.  This gown is stunning and just staring at Melanine alone, you can experience the exotic beauty of one of nature's most decorated creatures. You can tell the gown envelops in the comfort of its curved, sweeping, soft, and stylishly desirable embellishment. Inspiration emanates while adorned in this gown. The comfort level brings the liveliness as you enjoy the ageless grace and splendor.
The undeniable Trio Perfumes!!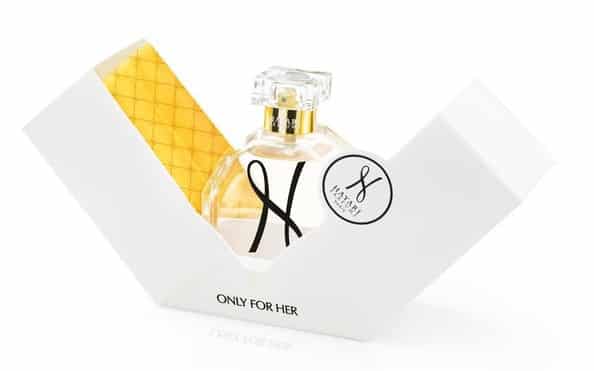 "Only For Her," is subtle, elegant and sexy. A fragrance that reveals the full complexity of all modern women with its seductive and alluring quality!
"Broderie,"  is an Ode of love and total feminity. A perfume for refined women which symbolizes purity and fidelity!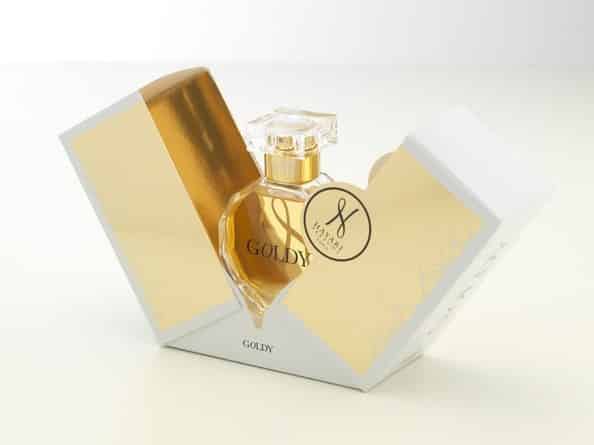 "Goldy," evokes elegance and luxury, a perfume meticulously engineered for the affluent and contented women. Goldy portrays french luxury lifestyle  throughout the world!
Contacts: www.hayariparis.com