Hayari Parfums Paris in Sniffapalooza 2013, From Bergdorf Goodman, II Gartopardo, to Henri Bendel store!
From Zimbio By Afoma Eguh Okafor on November 2, 2013
Hayari Parfums is a Luxury brand of  Classy Collections of Fragrances, well formulated with an artistic style and Standard quality.  The Perfumes Features three Elegant Floral Fragrances that are stunning, beautiful, with nobility that expresses a refined Style in a way that can't help but draw  gaze on the recipients. They are unique, and offers an excellent selection that has a way of evoking  a Classic, Luxurious air of  peaceful serenity as well as relaxing moments. These stylish Floral Perfumes, "Only For Her," "Broderie" and "Goldy"  are beautifully crafted and have an Elegance that is sure to bring a dignified presence in any Occasion and also features a lovely blossoming effervescence of Love and Luxury. The unique smell of these Trio fragrances brings an ethereal Beauty to any environment. The Beautifully handcrafted and hand numbered bottles makes an eyecatching masterpiece in any place where it is displayed. Yes, Hayari parfums sets the standard for quality in the Perfumery and Artistic industry. l must say, everyone should  Revel in the  luxury of Palatial splendor that Hayari collections has to offer because it gives one a unique appeal. It's tantalizing, Luxurious, Breathtaking and Elegantly Perfect for Presents.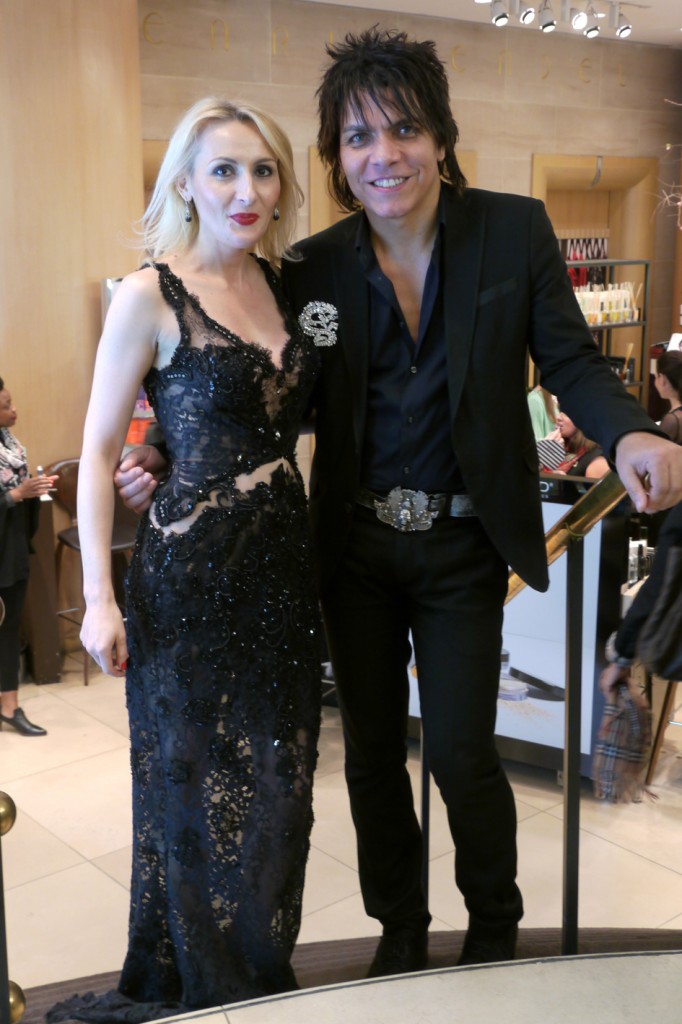 Marinela Sandy who prepared the exposure of fragrances for Henri Bendel, Nabil Hayari. Photo Credit: www.hayariparis.com
Not only that these perfumes are Lavishly and Fabulously designed, but they are modern Perfumes which displays sophistication that fully embraces a traditional aesthetics, resulting in a collection of Timeless Elegance. Hayari Parfums brings Glamour to anybody wearing it and Speaks nothing but Luxury!
         Hayari Model, Marinela Sandy. Photo Credit: www.hayariparis.com

Timeless Grace, and Charm blend to create the elegantly designed Hayari Parfums. Therefore, If Life throws Luxury at you – Please, enjoy it while it lasts, this is the theme for the Hayari World these days. These Haute Couture Designers,  Perfume Artist, Celebrity Stylist,  Movie Critics, and Rock Stars, Nabil Hayari and Hugues Alard have decided that,  it's  time to explore new Horizons in their Paris Based Fashion House, and specifically in the Hayari Parfums House located at No.16 vendome Place, Paris, France 75001!
And as always, these Designers have decided to do more with new attributes for a new and exciting World of Perfumes. Yes, they like to take on the World wherever inspiration strikes with their personalized Services to their Perfume Lovers. Since they know that it is easier than never to follow the new trends of the beautiful  Life Perfumery and its Journey. Hayari Parfums Paris stormed New York, during Sniffapalooza 2013.
Sniffapalooza as always,  is a fast, beautiful, sky-rocketing and highly  organized collaboration of Perfumers, Perfume enthusiasts, Journalists, Celebrities, Hosts, and Fans. A Cascade Celebration of Perfume innovations, Creations and Styles, which was organized by Karen Rubin the President and Founder. I would say, this event is for a celebrated day of the Magical World of Perfumes, where the Perfume enthusiasts intermingle with the Perfume Artists with Nostrils Flaring, and Luxury smells wild in the Wind. Yes, this distinguished event, "Sniffapalooza"  is so versatile these days that one can go to different Cities and Countries to enjoy the experience. It's an event for ladies and Gents of Honor, Class, and Sophistication and is usually held in  the United States, Zurich, Lisbon, Barcelona, London, Florence, Paris, and Grasse, The World Capital of Parfums.
   Nabil Hayari Showcasing His Perfumes. Photo Credit: www.sniffapalooza.com
During this event,  Hayari Parfums Paris  Journey into  the United States took another toll, because this beautiful and superb event is organized basically to inspire people to be more and do more in the Perfume industry.  A way to inspire both the Perfume Artists and the consumers at large and especially Perfect for those with an interest in Perfume innovation. This memorable event, "Sniffapalooza 2013" is orchestrated to display the artistic style of the Perfume industry. And what started off as a mere sniffing of Gorgeous Perfumes at the beauty Floor of Lovely Bergdorf Goodman in New York,  suddenly was  transformed into a gorgeous scenery of blooming, and blossoming Stylish setup of Luxury Perfumes, Beautifully decorated so that the experience will be Unique and Tantalizing. While enjoying the Sniffapalooza experience at "The Beauty Floor," of Bergdorf Goodman,  l was perplexed by the amount of Beautiful Perfumes displayed, and also the many Perfume Artists and Perfume Enthusiasts that showed up to Celebrate the Wonderful lives of these Perfumes. The talented Perfumers demonstrated the complexities and the many faces of the World of Perfumes. I must confess, it was admiringly an unforgettable experience. I tried sniffing the Perfumes just like every other person during this event,  but little did l know that perfumes are not just for luxury, they are for healing also. Fragrances are very Spiritual, and have some cleansing powers and healing virtues in them, and l don't know how to explain this, but regardless, l spent time sniffing these Beautiful and exotic Perfumes, and deep inside me, l was filled with this undeniable pleasure, and Luxury. It was pretty amazing!
    Karen Rubin, Hugues Alard, Nabil Hayari, and Francois Damaide. Photo Credit:Hayari Paris
Shortly after, we continued to the  Prix Fixe Launcheon at II Gattopardo, where the Perfumers  Celebrated their Perfumes by making  presentations, telling their never-heard-before Stories, about their creative skills, desires, inspirations and motivations. We were able to listen to their individual Stories, and as well, we were entertained with a delicious launch presented to us, including the Giveaway Sniffapalooza purple bag, filled with a lot of Perfume Samples and Goodies given to everybody. Amongst the many Perfumes Celebrated, and the  presenters of course are, Hayari Parfums by Nabil Hayari, House of Sillage, by David Rueda, Just Bloom, by Blair Bloom, Maria Candida Gentile, Maitre Parfumuer, Bergamot Box by Jason Fried, Ghost Food by Miriam Songster, Mickey and Momo Aromaflage by Michael, Family and Children's Agency, fairfield County by Stacy Holmen, make perfume not war, by Vicken Arslania, Midnight promise Giveaway, by Gordon Schaye, and finally, Good Smellas, by Carlos Powell, and Rich Scardaville.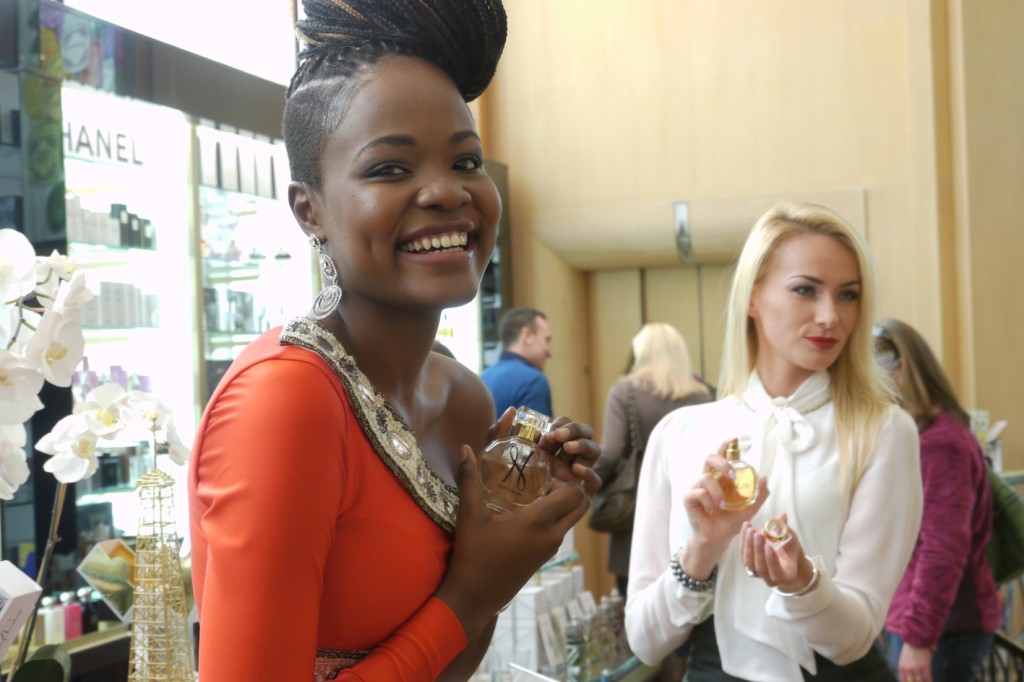 Listening to Nabil Hayari tell his own story was a moment to die for.  I attended this event with the Hayari Paris team, and l have heard their Story a million times, but during this unforgettable event, it was a little bit different. Probably because of the setting, the Passion and the scenario, Nabil Hayari exhibited while telling the World why "Hayari Parfums' is the next big thing in the Perfume World today. He  was so pleased and honored to share his heartfelt, touching story. In Fact, he made the Lovliest presentation to the attendees.  With the amount of  passion Hayari utilized in narrating the real story behind the Hayari Parfums, you can tell that these fragrances are created in such a way that they reveal Vignettes in the mind of the perfumer which is a way of communicating to the general public, what the perfumer has in mind. With Hayari's Fashionable taste, his presentation created a unique style, as his Model for the day, Marinela Sandy walked in a Hayari Couture Gorgeous Black Gown. And the overall pattern of this gown is Jewel- toned black beads, on a contemporary lace-work, with hand embroidered black feathers and black flowers. it's pretty spectacular, and well adornized. Marinela  walked in, just in in time, as Nabil Hayari was narrating his Story thereby creating a gorgeous Scenery for both the Hayari Parfums and Hayari Couture Fashion House.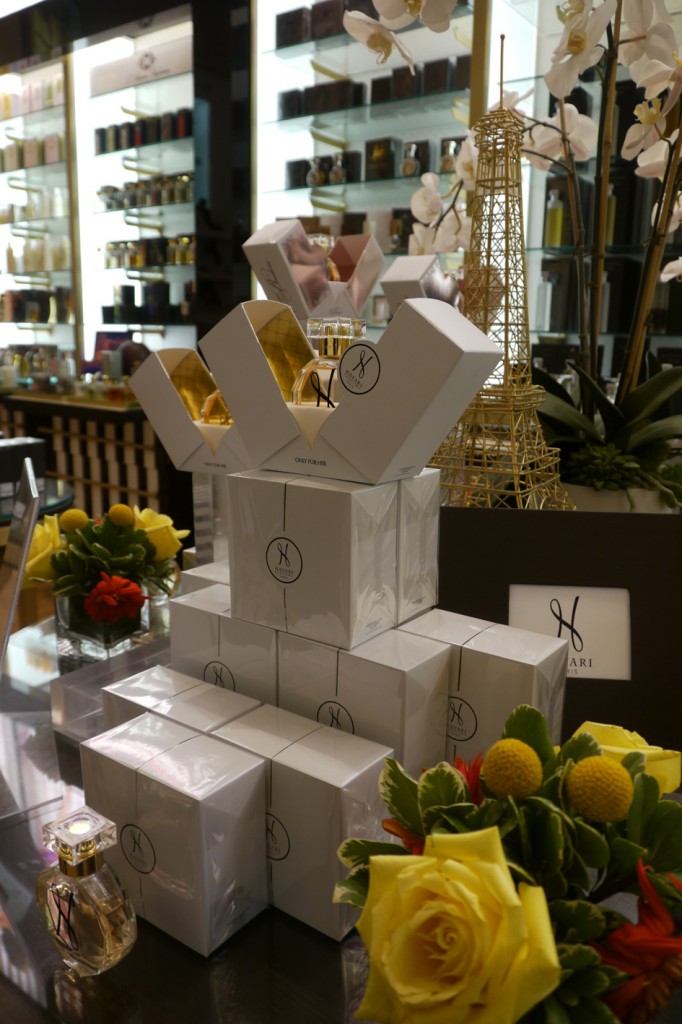 Hayari Parfums Paris embraces the singular possibilities only the art of perfumery can afford. The enchantment of the abstract and the intangible thing in these exceptional scents is pretty remarkable. The Parfums captures a complex emotional  cognizants, depending on what the occassion is for.  It was an awesome moment as the designer shared his passions, inspirations and motivations to the World best perfumers and fans. He shared the reason why his first floral  perfume, "Only For Her," is always a delicate evocation of white Jasmine flowers, reminiscing  the Designers Childhood Jasmine Flower garden.  And he shared why he decided to add the other two Luxury fresh smelling scents, "Broderie," and "Goldy". Listening to Nabil as he made his presentation, is like timeless beauty and a real  blast from his past.
It was said that, perfumery is celebrated as an Art, and the Perfumer is the  Artist. Nabil Hayari, examplified the artistry part of him. Although, he  is already a celebrated Artist in his Fabulous Fashion House through  his exquisite collections of Famous, Glamorous, and Gorgeous signature Gowns. But in life, whenever you are successful in one thing, it's much more easier to be Successful in other things that follows. Hayari Parfums is already a Success World Wide, and the Sniffapalooza experience is definitely an addition to the Success Story already achieved in this Overly Stylish Fashion House.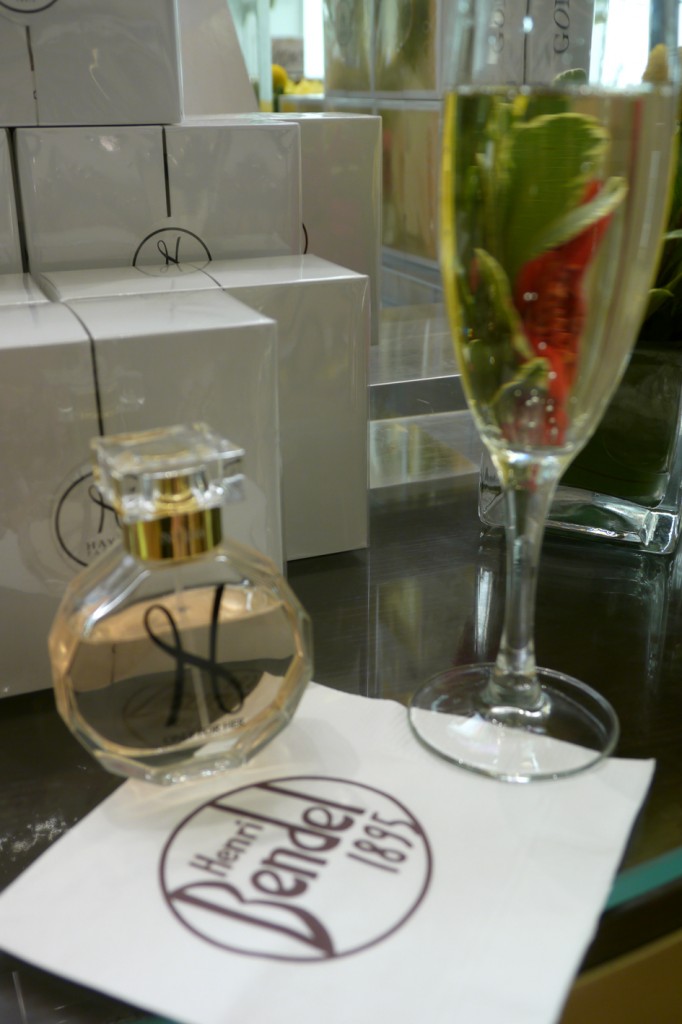 Nabil Hayari and Hugues Alard During the Debut of the Latest Hayari Parfums, 100 ml Bottles! Photo Credit: www.hayariparis.com

Anyways, after the presentations at II Gartopardo, we headed  to Henri Bendel Store on 5th Avenue, where clients actually had a one on one talk with the perfume artists, "Nabil Hayari." They asked questions about his inspirations and motivations. I watched Nabil Hayari presenting his trio perfumes and answering tons of questions from his Perfume Lovers. He continued to  share more insights about  the Hayari Parfums, with Hugues Alard and also Mr "Francois R. Damaide" of Hayari Parfums here in the United States. The three men worked so hard during the marathon presentation by Mr Hayari.

Nabil Hayari Presenting his Perfumes to his Clients! Photo Credit: www.hayariparis.com!

The last but not the least is the journey we took to the Secret Haven in Brooklyn for artisanal Niche Fragrances at a magical shop called the "Twisted Lily," on 360 Atlantic Avenue Brooklyn New York,11217. And that was the place where we all got drowned and started floating on a Fragrant Cloud.   I must say, this Journey of Perfume Stories is a classically, highly Organized, superb event where the Artist, Journalist, celebrities collaborated to celebrate the Power of the nose, because the nose knows all.
At Twisted Lilly Store in Brooklyn, New York! Photo Credit: www.sniffapalooza.com

Nabil Hayari and Hugues Alard the proud owners of Hayari Paris are very happy with the out come of the Sniffapalooza event, especially since they were able to  showcase their Trio Floral Fragrances with a style. They also made a debut of  the new Hayari Parfumes bottles. Yes, Hayari Parfums now comes in a Sparse, Hefty Glass Bottle of 100 ml Eau De parfum concentration.  This long awaited One-of-a Kind 100ml perfumes is very unique, as well as convienent for the clients. "Bravo" to the Hayari World for this latest debut. And l must tell you it is a stunning, beautifully designed collections that commands attention with it's blend of stylish design elements. The bottles has a simple, translucent, lustrous style that is perfect for displaying in  any departmental store. These proud owners of Hayari Parfums are classically trained men, and definitely know their craft because they have a unique inspiration in creating these beautiful scents. Their perfumes are as always  aesthetically Fabulous, and has a distinct freshness, and understated Luxury in it.  Hayari fragrances are Beautiful, Luxurious, and glamarously created by the World Class Noses in France. In Fact, Hayari Parfums are Gorgeous,  refined Trio Floral Fragrances of all times!

I was very lucky to experience these  wonderful and Memorable events, and my heart felt thanks to the Hayari team for inviting me. The launch was spectacular, the presentations were splendid, the Fragrances were amazing, l couldn't get enough of it. I must confess, that l was drowned in the beautiful mist of exotic fragrances!