Hayari Couture Paris Bridal Gowns lights up any occasion, and that's what happened during this year's Carrousel Du Louvre, as Hayari Gowns were voted as "The Paris Fashion Week Best Wedding Gowns of the Year." My heart felt Congrats to the Hayari team, for a job well done, especially, the Masters, Nabil Hayari and Hugues Alard. Yes, Hayari's Gorgeous Gowns, made a dramatic Statement as the Brides trotted the runway of Carrousel Du Louvre and of course, they were accompanied by their grooms as the Bridal Show kicks off. There is no greater Joy or pleasure  than seeing beautiful Brides adorned in Gorgeous Bridal Gowns from a reknowned and top Designer of our time, Nabil Hayari. Wedding brings people closer, and that's exactly what Hayari Bridal Gowns are all about. The memories of these self sufficient Bridal Gowns keeps couples in LOVE for a lifetime. And l am telling you now that Hayari's Bridal Gowns has a Spirit of "Love" Behind it. When you wear it once, you will never stop falling in "LOVE." The Gowns defines Beauty by its Standard, they showcase Elegance, Poise, and Confidence. As a Bride, you will always be rest assured that you are the BEST that you can be in the whole Wide World.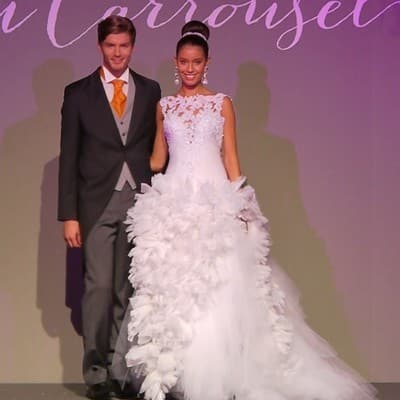 Hayari Paris
Hayari wedding gowns are meticulously and intricately designed not just for any Wedding, but for the Wedding of the Century, they are for Weddings that last more than Life itself. During Carrousel Du Louvre 2014, Designer Hayari unveiled Stunning , and Breathtaking  Wedding Gowns, accesorized with Glamour, Glitters and Elaborate Beauty. They were highly sophisticated  masterpieces that speaks for itself, for words aren't enough to describe the Majestic Allure that radiates from these Glamour Glories. Hayari Gowns are a real life Fairy Tale. They are Dreams that always come TRUE.  Designer Hayari, is one of those Designers that only works through inspiration. I am telling you, l have watched this man, and l know that he doesn't do anything unless if he is inspired to do it.  And we all know that every good thing we have today in this World comes only by inspiration. And that's why Hayari Couture Gowns stands out amongst other Gowns. They look Heavenly, and Angelic because Nabil Hayari is no stranger to Beauty and Perfection, but he has proven over and over again that he is a Master of his Craft.  Yes, Hayari Couture Collections are a Timeless Elegance and  a touch of Parisian Paradise, that incorporates Beauty and Glamour. And that's what makes the Fashion House very Unique.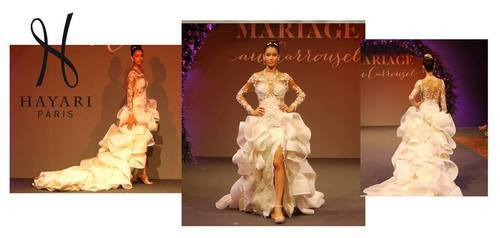 Hayari Paris
Hayari Gowns evokes pleasant memories, because of the uniqueness and redefined beauty and Grace. Every year, Designer Hayari knows how to capture the appeal of the Carrousel Spirit. The Bridal Gowns has Delightful Designs, with expensive French materials, lace work, flowery embroideries, adorable French feathers, making the Gowns to bring the best in the  Women who wears them. Designer Hayari as always is passionately in love with his work. That's why this year's Bridal Gowns are uniquely different from the others. He unveiled stunning, and Iconic Gowns with a Touch of Glamour. They are Chic and elegant Gowns created for the "MODERN DAY BRIDES." So should in case you decide to get married anytime soon, a trip to  Hayari's Showroom will make your Dreams come True.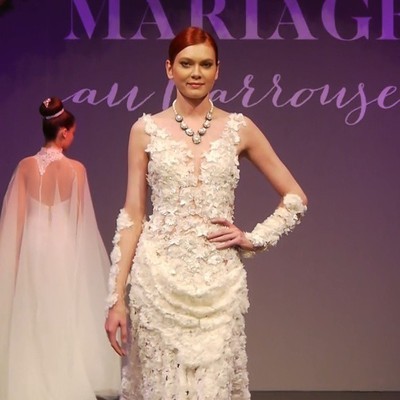 The latest addition to the Hayari Paris Fashion House is the incorporation of Hayari's Jewelries with Hayari's Wedding Gowns. And the unification of the Jewelries and the Wedding Dresses is like a match made in Heaven. And you can see the Brides are uniquely adorned with one of the best Treasures of our time, "Hayari's Jewelries." And this is the first time that the Jewelries are ever seen on the runway!