By Slavica Monczka
Among all the finer things in life produced in France, fashion tops the list. Not only the simple ready to wear, but more importantly the jaw-dropping haute couture. If there is ever a luxury in fashion worth splurging on, then that would be a dress by Paris based Hayari Couture. Nabil Hayari designs spectacular wedding and evening dresses for women with discerning taste, and a desire to impress all with such sensational gowns.
Hayari's clientele are international woman of wealth and prestige yearning to be sexy and glamorous for a special occasion or for their very own wedding. Women from Russia, China, and the US call upon Hayari with a request to transform them into a princess for a day. Hayari Couture carries the official "haute couture" certification by the French government, ensuring and upholding the authentic and artistic quality of this talent. For these reasons, it is typical that the dresses run well into the tens of thousands of dollars and often takes an average of five months to complete.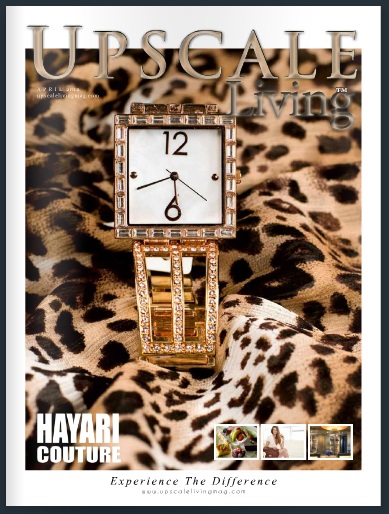 At my recent visit in his atelier in Paris, I asked designer Hayari, why do people go to the expense and time of haute couture? Why not simply indulge in a high-end designer brand? "It is a woman's worst nightmare to show up at an important event wearing the same thing as another woman," he reminds me. Nabil is very familiar with the fact that a woman would rather set fire to her own hair than to arrive at an event wearing the same dress as another. Oh, the horror!
"All the details are very important," Hayari explains. "We embroider by hand, and use noble fabrics," states Hayari of the significance in his designs. "La doublure fabric inside (lining) is silk because when it touches the skin, it is very agreeable!" These hand placed details are time consuming but it is what makes them so exceptional.
"The red dress, the fabric is silk taffeta and all the flowers are made by hand. It took more than 800 flowers made by hand," Hayari proudly claims in his sweet French accent I so love. Fine French lace, feathers, and Swarovski crystals are some of the extraordinary details that adorn these elaborate gowns. With each dress, Hayari completes the look with complimenting accessories.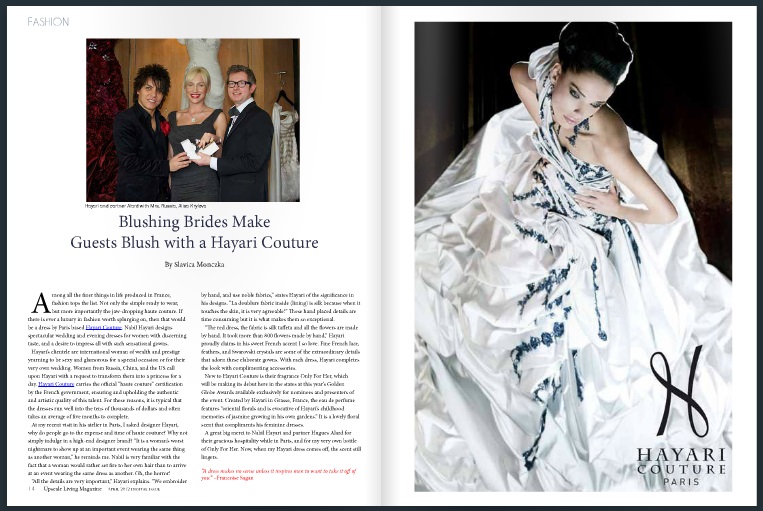 New to Hayari Couture is their fragrance Only For Her, which will be making its debut here in the states at this year's Golden Globe Awards available exclusively for nominees and presenters of the event. Created by Hayari in Grasse, France, the eau de perfume features "oriental florals and is evocative of Hayari's childhood memories of jasmine growing in his own gardens." It is a lovely floral scent that compliments his feminine dresses.
A great big merci to Nabil Hayari and partner Hugues Alard for their gracious hospitality while in Paris, and for my very own bottle of Only For Her. Now, when my Hayari dress comes off, the scent still lingers.
Visit Hayari at www.hayariparis.com
"A dress makes no sense unless it inspires men to want to take it off of you." –Francoise Sagan