After Paris Fashion Week: Hayari Princess Kiss The Bride 2013 Carrousel du Louvre!
By Afoma Eguh Okafor on October 13, 2013
Choosing a perfect wedding gown is one of the most important decisions one will ever make when planning a wedding. A perfect wedding gown is usually a reflection of a perfect designer. However, having an exceptionally exquisite wedding gown is also a reflection of being loved and well deserved in a marriage relationship. Setting aside time to create a perfect wedding gown for a special day usually reflects true love that lasts forever. Remember, Love is the reason why people relinquish their individual hearts for one another, and together they become one. That's why Nabil Hayari takes time to create exquisite gowns for exceptional couples in love. And as no two brides are the same, Hayari's wedding Gowns are designed to suit every individual taste and need. Nabil Hayari, takes pride in his work by being able to offer a choice of wedding gowns to every Bride-to-be that steps into his Show room. This is done by passionately creating each gown with so much love, and every piece of fabric is hand embroidered with Passion, Respect and Adoration, making the magnificient beauty of Hayari wedding gowns exceptionally different. These Gowns are priceless and words aren't enough to describe the uniqueness, and the redefined beauty and Grace.
It was said, " First comes Love, then comes Wedding Dress, then comes Marriage." So after you fall in Love with your significant other, your next stop is Hayari Couture's Show Room, located at no 3 Avenue Matignon, Paris, France, 75008.  Who would ever think that visiting Hayari's Showroom comes first before  Marriage itself? And we all know that Marriage is the oldest institution on earth. That propels Hayari Couture Wedding Gowns on the Ladder of the Special moments in every Woman's life! The bottom line is, Hayari's wedding Gowns presents opportunities to engage Bride-to-be's in a Fairy tale Wedding adventure. Remember, Marriage is not about marrying the right person, but it is about being the right partner, likewise wedding preparation is not about getting the right Gown, but it's about looking your best and feeling Loved in your right Wedding Gown!
Hayari Paris showcased these signature wedding gowns during the Carrousel 2013 immediately after the Paris Fashion Week. The wedding Gowns unveiled have small to long train, Feathered, Ruffled, Beaded Embellishments and Gorgeous dramatic flares. The gowns are very Stylish, Elegant and Super chic! During the Carrousel, although they were other designers who showcased their collections, but Hayari's Gowns captured the appeal of the Carrousel Spirit. The collections had Grace, Regal Majesty and Royalty. They were embellished with Glitters, Charming pieces of pearlized beads, Crystals and other additions. Hayari's Hand-embroidered Gowns are Delightful, Divine and gave the Carrousel a fresh new look. Being garnished in these Gowns will make any Bride to have dreams and visions of an unending  Romantic gateway for a whole lifetime. In fact, these Lovely Hayari Collections are highly Sophisticated and Lavishly designed to add a true delight to any wedding occasion!
It takes as long as it takes to create the right gown for the anticipated dream wedding, Gowns ranges from easy Light Fabrics, to Heavily Embroidered, Feathered, and Beaded, Soft Taffetas, Chiffon's and Organza Fabrics. Usually the traditional everywhere, over the top beading and embroidery old fashioned wedding Gowns are out of the question. But designer Hayari have chosen Classic,  Dramatic Fancy Flare, with Luxurious Adornments in all the Gowns designed. The Wedding Gowns are Modern, Unique, and Trend-Forward.  These One-of-a-kind Wedding Gowns are so well designed, with comfortable attributes that the Modern Day Brides will prefer not to remove the Gowns after the Wedding is over. This is because of the love and bonding they have established for their once in a lifetime magical Wedding Gown. If l am a Bride, and l am adorned in a Hayari Couture's Wedding Gown, after my wedding, l will wear my wedding dress everyday, and l will go everywhere With it. This is just me!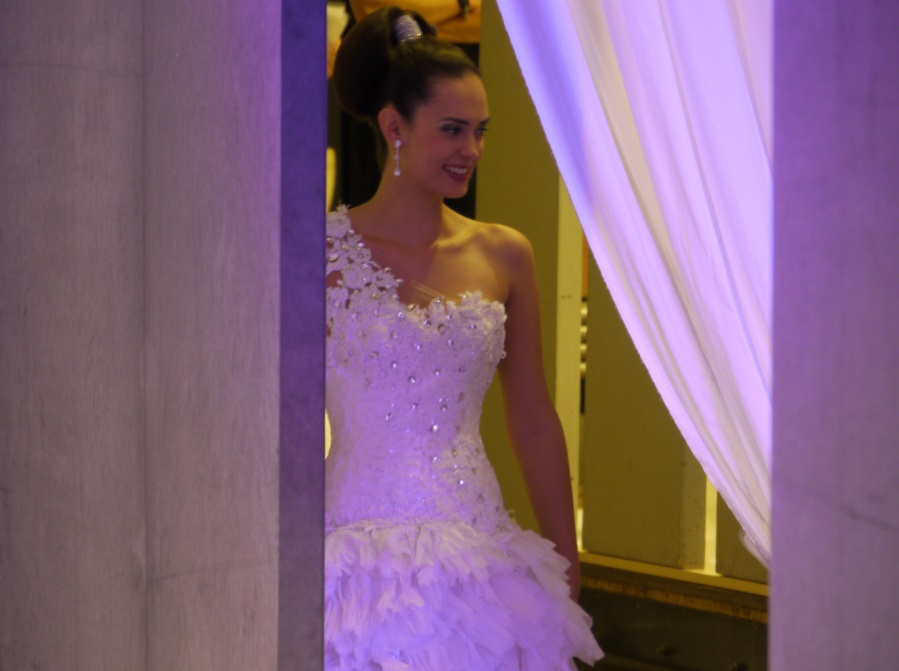 This Hayari's wedding gown shown above is designed with some revealed skin openwork, accessorized with studded crystal beads at the back, and also with frontal neckline that is very unique and sensual.This gown is an entrance maker. The ruffled handcrafted train is enriched with Superior Fabrics and Superior Feathers in a unique lacework finishing showing an exotic opulence that will draw all eyes on the Bride.The waistline is Fanciful and features a look of Charming Flair. This gown is ideal for Royals, as it reminds one of a Luscious tangle of the Morning Glories or perhaps the intricate frieze of a Modern day Goddess with its dazzling white Floral Embroidery on a pure Ivory Fields, certainly, this Gown evokes a sense of a Beautiful Mystery!
This Hayari Couture Chic, Daring and Stunning ensembled Luxurious Wedding Gown has all it takes, featuring a Sleek Ruffled Flare, which is a Crowning touch to any Wedding event. The gown is adorned with scrolling borders of layered train making it Stunning. It has intricately, highly detailed, playful features with Ivory layered, fully up long tail. The Gown highlights Shimmering Ivory color which coordinates with the assymetrical strap, and Laced back top. The gown is ensembled in a traditional way with a Soft luxury. The sophisticated essence and traditional beauty of this wedding Gown creates a timeless elegance and Radiant beauty!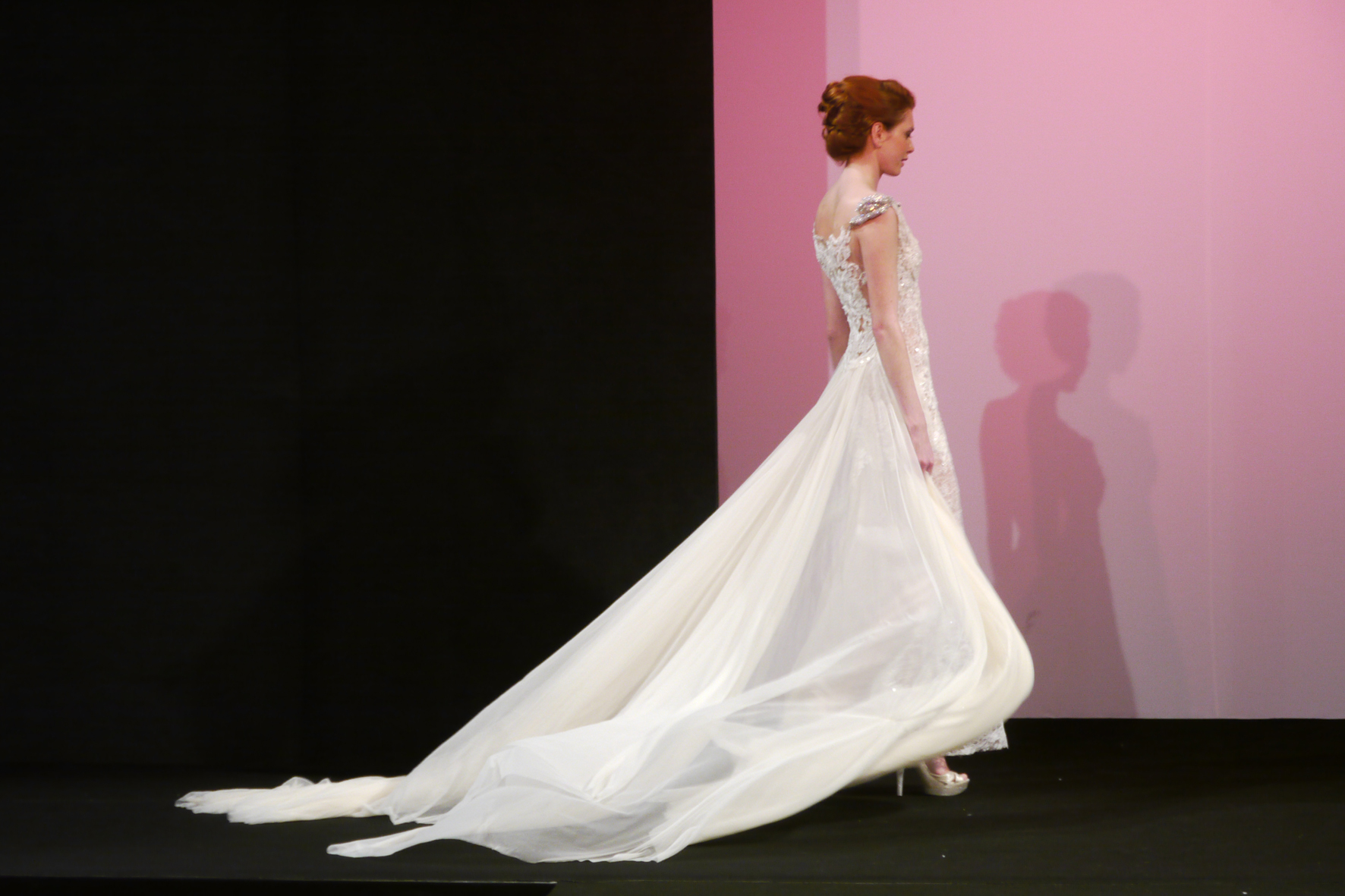 This Gown is marked with a stately elegance, it looked simply Statuesque, with its continued flawlessness with a fit and drop waistline and a matching transparent train. Which adds Glamour to its Regal splendor. The Noble appearance commands attention with a finish that resembles a majestic easy-to navigate attributes. The elegant ensemble exudes sophistication and adds class to the Bride. While adorned in this Gown, the Beautiful Bride walks in a sensous way, as if she is the owner of the whole Universe, and Aura dances around her while she flaunts her body. The gown reveals the curvaceous features of the female nature with an elegant, sumptuous and stylish contemporary look. A couple's closeness is captured in this romantic lovely wedding Gown designed with hand embroidered Ivory lace. This Gown is easy to wear, exquisitely adorable, and irresistable! While donned in this Gown, the Bride will look like a Fairy Fluttering in the Wind!
For More Information, Please feel free to visit:
www.hayariparis.com