Hayari Paris Celebrity Gowns and Perfumes!
In a Fashion World where people are struggling to stay on their feet, Hayari Paris is actually gaining serious attention. Now as Hollywood Power Players, Hayari Paris stunned Hollywood in a most special way by stepping into every carpet. Be it Red Carpet, White carpet, Purple Carpet, Grey Carpet, Crocodile Carpet and so on. Hayari Paris were seen at different events like Oscar Beauty Gala, Independent Spirit Award, "Le Lounge privee," Harvey Weintein's Pre-Oscar Party, Celebrity Jeweller Michael Raven's HollyWood Hills Cocktail Party, Tom Ford's Fashion Party Bash, Rendez-vous with French cinema, Vanity Fair Oscar Party, Night of 100 Stars Oscar party, Elton John's Aids Foundation Award, the list is endeless. But regardless,  It is not just the Carpets, but most importantly Creativity is free flowing, and discipline more also. Hayari Paris collections bestows a sense of subtle elegance, and stunning look that features a field of embroidery with fleurette. In an exclusive look into Hayari's Atelier, the Designer's Motto is: Quality is Reality, Intergrity is Lifestyle and Excellence is Standard. Nabil Hayari and Hugues Alard love  what they do, the passion they dedicated to their work constantly help them to deliver the highest quality creations ever for any kind of event! Infact, there is no greater Satisfaction for these two men than delivering  desirable creations. Gowns that  commands majestic presence in any environment  and perfumes that are impossible to ignore.  Each creation has its own commanding effects on the recipients.The Nobility of the dresses are evident in so many ways, they make the clients feel like Royalty with Regal Splendor. Dresses have  classic lines of Sophistication combined with Soft , Graceful and Charming garnishings. Hayari Paris Gowns depicts Lovely Angels well styled to draw attention. Infact, all their creations depicts real life Angels. And although life may at times seem dark, an Angel's comfort is always what we need. Dresses have its comfort level, with Delicate, Feathery Features and Romantic Silhouette. It's even much more easier to attribute all their creations as Angelic Designs. 

From Zimbio, by  Afoma Eguh Okafor
TV Personality, Melanie Mar during the annual Elton John Aids Foundation Awards White Carpet Viewing Party, at Pacific Design Center, West Hollywood, California. Photo Credit By Jamie McCarthy!
This  eye-catching and head-turning dress worn by TV personality Melanie Mar, has an exotic ensemble with hypnotic appearance sure to entice  anyone. The dress is fabulous  and features elegantly-styled, hand embroidered  feathers on dazzling pure black material.This gorgeous dress is for exciting Red Carpet experiences. The gown is elegant, subtle, and highly sophisticated. TV personality Melanie Mar captivated everyone in a Hypnotic manner, and sure looked like a Fairy in a lush  setting of an Ocean with the rhythms of gentle breeze that will envelop anyone's senses with magnificent imagination. This dress is both elegant and seemly sumptuous, giving Melanie Mar a beautiful and flawless look!

Super Model, Liliana Mattheus, in an Exquisite Hayari Paris Gown during the Princess Charlene Amber lounge Fashion show in Monaco!

Amber Lounge  is an A-list event for  Celebrities, Royalties, fashionistas, and catwalk Models. Super Model Liliana Mattheus didn't disappoint, she delivered while adorned in this  charming Hayari Paris Red Gown. She rocked the Fashion Show with her commanding appearance in a fabulous spotlight!  She Captivated everyone's attention with a crowning touch and a Regal Splendor of an Empress.The visual appeal of this dress turned Amber Lounge celebrity adventure into a magical work of arts. Hayari dresses are organized as precious jewelries with fine details of delicate embroideries, plenty intriguing and intricate detailings with special ornamentations.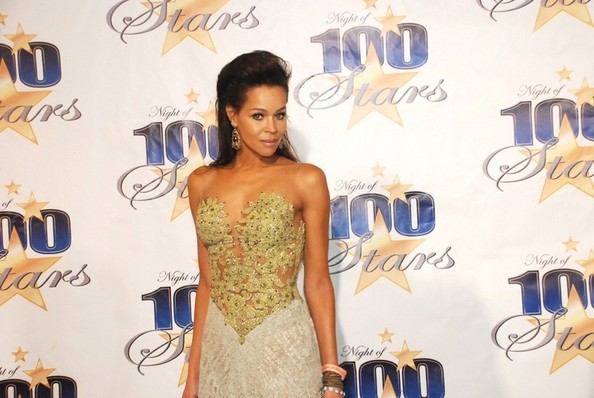 Actress and Model Kimmarie Johnson, during the Night of 100 Stars Oscar Party, at Beverly Hilton Hotel!
This stunning dress worn by Actress and Model kimmarie Johnson during the Night of 100 Stars Oscar party, radiates true elegance and a dramatic work of art. Looking at Kimmarie you can tell that the dress is as effortless as possible, with a free flowing grace and elegance. The dress conveys emotions that are hard to express and features a translucent vining leaves appearance in a lingering embrace. The stabilizing embroidery with its intricate detailings on the top adds to the elegant style, with ornamentations making Kimmarie looking like an Egyptian Queen. The leafy appearance integrates a soothing warmth of nature and makes a wonderful combination to please your senses. A reminder of the passion and tenderness a lasting relationship can provide. The ruffled undulating texture presents rhythms with rippling effect and she is Perfect, Exquisite, and Gorgeous!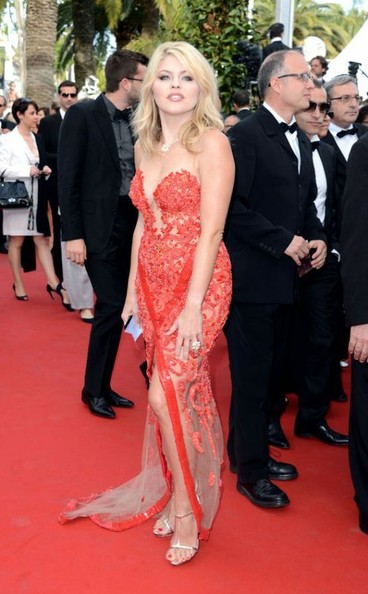 Celyne Durand in a Sophisticated Hayari Red Gown during The Festival De Cannes!

Celebrity A-lister, Celyn Durand in Hayari Gown during the Cannes Movie Festivals. Celyn was styled in this red dress with adornment which creates Luxurious, Elegant, and Graceful look. This handcrafted Red gown features a center piece with appealing blend of beautiful scrolling and swirling embroidery. The dress is higly sophisticated and yet lavishly embroidered showing curvaceous features with Stately Elegance and Noble appearance. The dress certainly evokes a sense of Beautiful Mastery and Classic flair.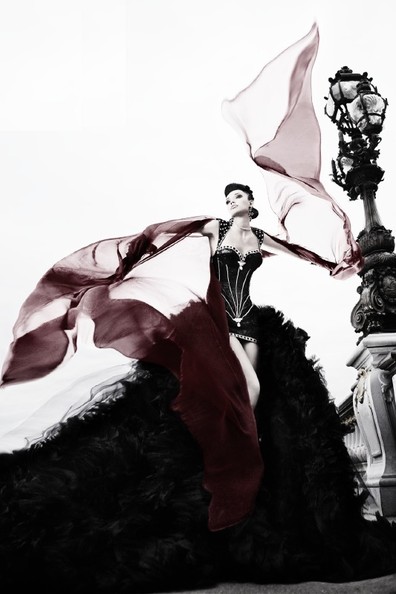 Hayari's dazzling black wedding dress is more than words can say, showcasing  gorgeous flowing, it is as usual, eye-catching and head-turning with seductive elegance.  Wedding Gowns with free flowing effects reflects couples in Love with their Love and promise of a brighter future together. The bride while adorned, radiates the enchanting beauty of just married. Hayari's flawless wedding  gowns are delicately feathered and enhances the beauty of the Bride.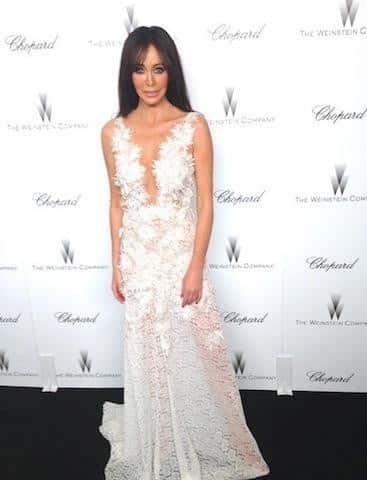 TV Personality Melanie Mar attended Harvey Weinstein's Pre-Oscar Party with this Dazzling White Hayari Paris Gown!
Dresses have seamless finish and detailed features. Dresses are not only delights to look at, but a wonderful addition to any Wardrope. Dresses are designed with Angelic features, a Spiritual and touching way for Hayari Paris to let the World know that they care just like Angels do. For we all know that the Warmth of the Angel's light can comfort and illuminate the whole World. While adorned in the embrace of these luxurious, intriguing gowns designed by Hayari Paris, the gowns usually brings a light touch to the body and a Vision of Heavenly Grace.
Thankfully, some of the best traditions in Life continues to be Sacred, Hayari Paris inspiration to create and share their vision is wonderful, and I believe that their inspiration is more Spiritual than Ordinary!
 
                                                         Hayari's iconic Perfumes
These perfumes are hand-crafted and hand-numbered, and are made from natural raw materials.
Only For Her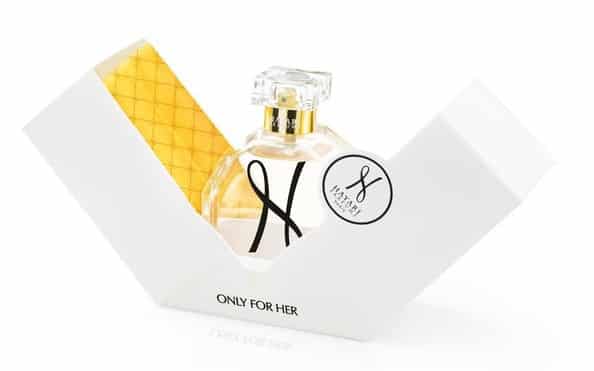 The white Jasmine flowers in Hayari's childhood garden brought the inspiration of this First Floral fragrance, "Only For Her." The white Jasmine Flowers symbolizes Purity and Innocence of the creator. While the vibrant blossoming petals of Jasmine flowers speaks of a Blooming Passion of the Magical creations achieved through this inspiration. "Only for Her" is an all season perfume, and very good for daily use. The perfume adds regal charm on anybody wearing it. Of course you will not be fully dressed, until you splash "Only For Her"  perfume on your regalia. "Only For Her" is Subtle, Seductive and Sexy, with an alluring quality.
Broderie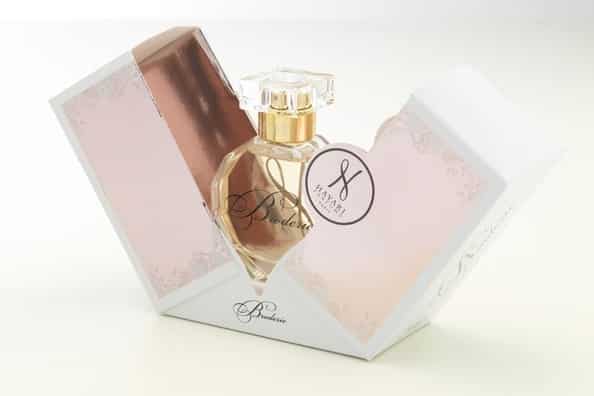 Relishes the sweet, luscious fruity smelling effervescence. The inspiration came from the hand embroidered Hayari Gowns. Perfume enthusiasts will love the richness of the smell. Broderie will lighten up any room with its fruity smell. Broderie is charming and reminds anybody around that all you need is Love and great companionship in order to enjoy a happy life. It is, La Vita e Bella perfume and is usually used at night. Broderie examplifies an "Ode to Love" and total feminity, it symbolizes Fidelity and contentment.
Goldy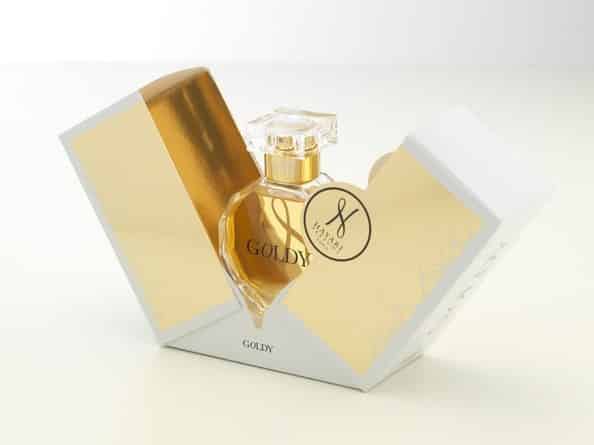 The beautifully handcrafted Goldy perfume bottle  is eye catching. The rich smell heightens one's self esteem. Goldy is  Scintillating and classy, mostly used by sopisticated and stylish women. "Goldy" is usually used during the day. It evokes soothing feeling, and it is a One-of-a-kind. Inspiration emanates from this perfume. "Goldy" evokes elegance and luxury and has its own charm. It is the perfume for the affluent women.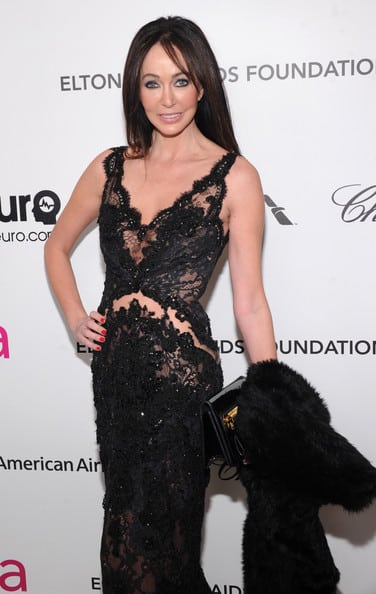 TV Personality, Melanie Mar during the annual Elton John Aids Foundation Awards White Carpet Viewing Party, at Pacific Design Center, West Hollywood, California. Photo Credit By Jamie McCarthy!
Contacts: www.hayariparis.com
www.bigelowchemists.com