Hayari Paris at the Avenue of Stars during the Chelsea Film Festival! by Afoma Eguh Okafor
Cover: Nabil Hayari and Elizabeth Kemp, photo credit: Marisol Oberzauchner of Moz Foto Studios!
Wonders Shall never end, as the Hayari Paris Team have done it again. These days the Life of this overly stylish and Fashionable Fashion House is a party and you are invited! Hayari Paris celebrates both fun in life and career simultaneously. They have all it takes when it comes to Festivities like Cannes Film Festivals, Fashion Weeks, Carrousel Du Louvre, Vogue Night Outs, Sniffapaloozas, Royal Ascots, and different Red Carpet Events here and there during the Hollywood Award Seasons!  The designers, are Talented, and apparently knows how to have fun while working hard.  Hayari Paris have finally become a house hold name as this Paris based Fashion House examplifies extraordinary contributions to  Films, Arts and music industry  in the United States, Europe, and all over the World.  With a sense of social ease and proud Beauty, Hayari Paris made a triumphant entry into New York City this past weekend. Yes, they stormed New York City with a Regal Splendor, Nobility  and Style  as they showcased their stunning, Exquisite and Fabulous collections during the Chelsea Film Festival.  Special thanks to the entire team and all the Guests of Chelsea Film Festival, especially, Ingrid Jean-Baptiste, the founder and President, and Sonia Jean-Baptiste, the co-Founder and CEO of the Chelsea Film Festival for a warm welcome given to the entire Hayari Paris Team.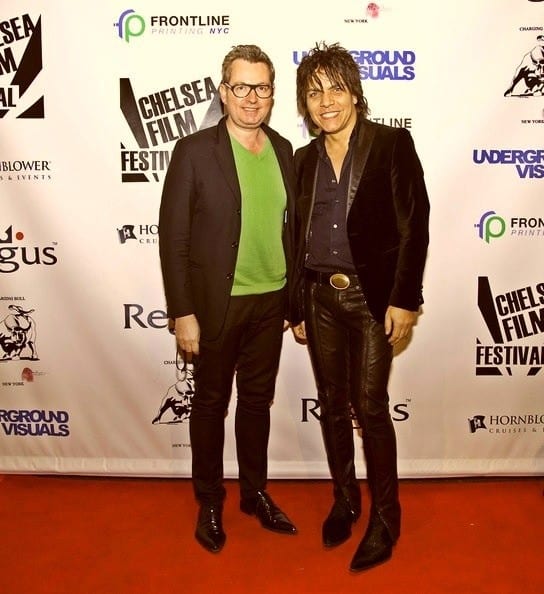 The Terrible Two Designers, and "GodFathers" of Hayari Paris, Hugues Alard, and Nabil Hayari! Photo Credit: Marisol Oberzauchner of Moz Foto Studios!
Although the designers, Hugues Alard and Nabil Hayari are the master of their craft in so many ways,  but they are so proud to be a World reknown Star Fashion designers, but then,  just in  one beautiful weekend, they were transformed into  smart Movie Critics. Chelsea Film Festival on the other hand was  turned into the Avenue of Stars as the biggest producers and directors from all over the World descended New York City at the kickoff of the Festival Week on October 24th. Boldface names from the Movies, Halima's path by Arsen A. Ostojic, Licks by Jonathan Singer-Vine,  A cool dark place by Tiffanny Frances,  Titus by Charlie Caltral, Broken by IIay Ron, Decimation by Wade Jackson, Pokou by Kan Souffle, Narcissus by Dovile Gasinnaite, A Cour Ouvert by Ayekoro kossou, Les Petits Princes by Marc-Etinne Schwartz, Soul of America by Charles Bradley, My Destiny by Peter Marcias, Nairobi Half Life by Tosh Gitonga, and countless of other movies l didn't mention were seen. In fact while watching Nairobi Half life by Tosh Gitonga, the pain and suffering was too unbearable for me, and l couldn't hold back my tears for some reasons.  Also, Paul calderon and Elizabeth Kemp were the presenters of the Awards To the Stars, And of course, Elizabeth Kemp and Ingrid Jean-Baptiste, the founder of Chelsea Film Festival were all styled in Hayari Paris Exquisite gowns.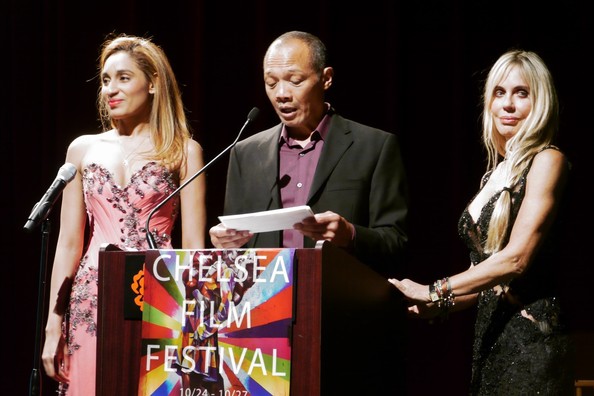 Ingrid Jean-Baptiste, Paul Calderon and Elizabeth Kemp presenting the Award at closing. Ingrid Jean-Baptiste and Elizabeth Kemp are adorned in Hayari Couture Paris Exquisite Gowns. Photo Credit: Hayari Paris!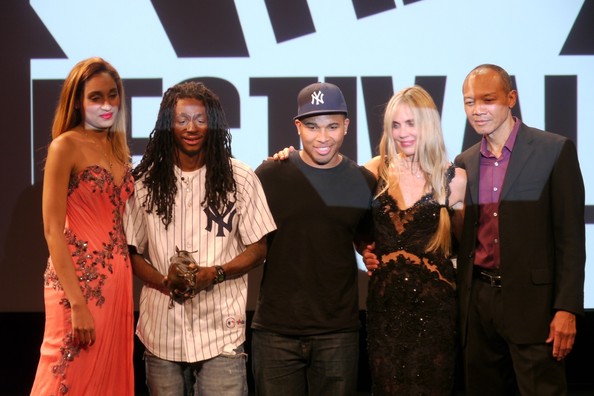 2013 Chelsea Film festival Awards Grand Prix goes to the cast of the LICKS by Jonathan Singer-Vine! Photo Credit: Hayari Paris!

Who will ever know that one can enjoy the Luxury of Fabulous Parisian ultra Chic  lifestyle in Chelsea, New York? Well, l am telling you,  it happened,  the addition of the Taste of France with the collection of Hayari classy and sophisticated gowns, and the breathtaking elegant Hayari Paris trio fragrances were showcased to the Movie stars. The perfumes, "Only for her," Broderie," and "Goldy," were all displayed, and they all showed the regal elegance of the French City. During the Festival, as the evening light falls, the lonely beauty of the trio Perfumes shimmered, and the golden age of the Gowns dazzled, celebrating the French culture in New York City. Obviously, three Cities collided under one roof. The Intermingling of  the City that never sleeps, New York, the host City of the Festival, the City of Lights, Paris, where the Hayari Paris Fashion House is based, and the City of Angels, Los Angeles where the Stars and most Hollywood pictures are made is too good to be true, l witnessed the collision and up till this moment, l am still lacking words to explain the experience. But all l can say is that it is "Simply Breathtaking and Magical."  But l do recommend, for  Movie, Perfume, and Fashion enthusiasts to keep up with Ingrid Jean-Baptiste and Sonia Jean-Baptiste for the next year Chelsea Film Festival. For me, l won't miss it for anything in the whole World!
Star Designer, Nabil Hayari of Hayari Paris and Me, Afoma Eguh Okafor, owner of "The Infinite Intelligence: The Ladder of Success." Photo Credit: Marisol Oberzauchner of Moz Foto Studios!
As l said before, Hayari Paris  depicts the "SUN" setting between three majestic Worlds, New York, Paris and Los Angeles as the Fashion House have become a friendly abode when it comes to styling the Celebs, and Entertaining both Movie and Perfume Enthusiasts. These Star designers are no strangers to the Red Carpet Events of course. In fact early this year, they stormed Hollywood with their "Craziness." I was there, l witnessed all their insanity, from the Le Lounge Privee gifting party they hosted, to Oscars Beauty Gala, to Independent Spirit Award, to Harvey Weinstein's Pre Oscar party, then to Tom Ford's Fashion Party Bash, to Vanity Fair Oscar party, to Night of 100 Stars Oscar party, and Elton John's Aids Foundation Award, who will ever accomplish all these in a very short time? "Well" only the weird ones.  But as much as Hayari Paris have trodden different red carpets, this time around sitting down, and dealing directly with the Producers, Directors, and the Stars during this event is definitely a highlight, and a hallmark of the year. Again l give, Special Thanks to Ingrid Jean-Baptiste for making it a possibility. Hanging out with the actual actors in the Chelsea Theater, and watching their movies, judging, and being their worst critics, as well as friends is pretty remarkable!  Right now, Hayari Paris have established a professional kudos of  both artistic and stylistic credentials in any celebrity event, in Films, Arts, Music,  and Fashion Industry!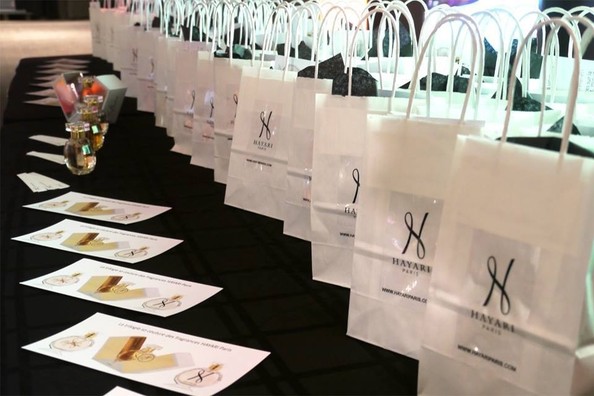 Hayari Gift Bags presented to the Celebs, Presenters, Guests, and Fans During the Festival! Photo Credit: Marisol Oberzauchner of Moz Foto Studios!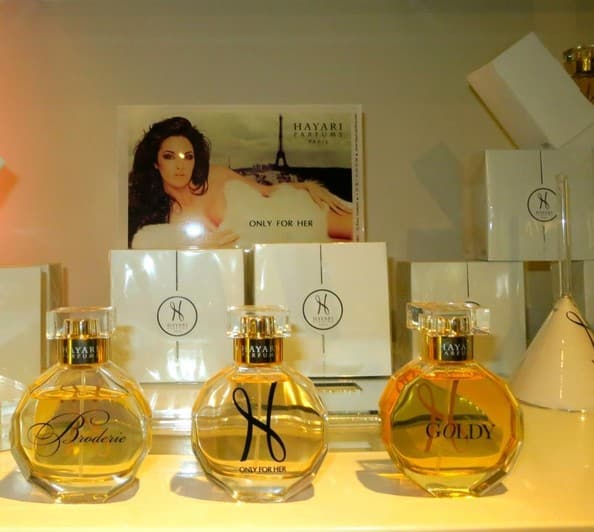 Hayari Triology Fragrances: "Broderie," "Only For Her" and "Goldy." Photo Credit: Hayari Paris!
Hayari Trio perfumes are sleek, stylish and creates a modern masterpiece. They  are now a desired choice for any festivity all over the World. It simply has a mystique that blends well with every celebrity preferences. Just like we depend on the Earth's motion for our daily existence, everybody really need at least  a bottle of Hayari perfume for our daily existence. Because these perfumes  offers the flexibilty of  scents that complements any occasion. Take a glance and a sniff of these floral trio perfumes, and you will instantly feel yourself being swept away to your own private Jet, into your own private paradise, because these perfumes presents exotic Aura with Luxury, tasteful and traditional aesthetics. The charming Hayari perfumes, adds classy touch, depth and natural grace to any Celebrity event!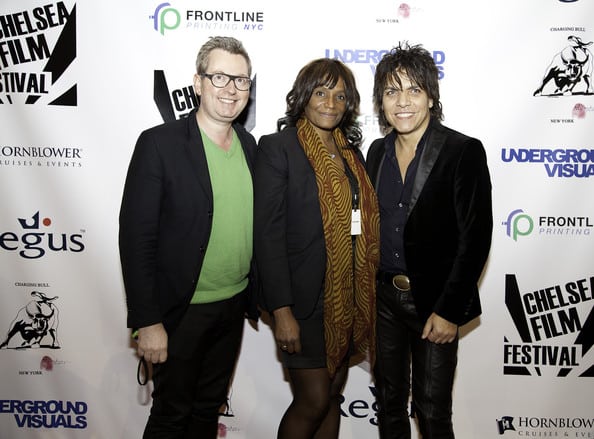 CEO of Hayari Paris, Hugues Alard, Chelsea Film Festival Co-founder and CEO Sonia Jean-Baptiste and the Star Designer, Nabil Hayari! Photo Credit: Marisol Oberzauchner of Moz Foto Studios!
The Parisian enchanting designers as always delivers, they do not disappoint their clients.  Their undeniably classic perfumes and adorable red carpet gowns from their Parisian Atelier provides a gorgeous addition, glamour, elegance and sophistication to any celebrity event. The perfumes and the gowns are elegant and majestic collections to this superb event.
The collection of gowns actually helped to re-introduce the French way of walking the Red Carpet in New York City just like they did in Hollywood earlier this year..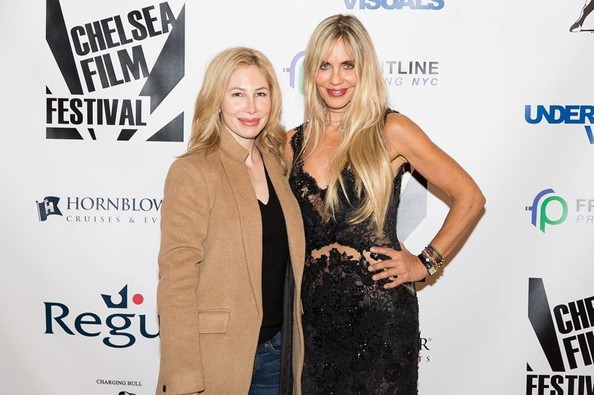 Actress KiKi Lambden and of course,  Elizabeth Kemp adorned in Hayari Couture Gown! Photo: Chelsea Film Festival Facebook page!
This charming gown worn by Elizabeth Kemp here makes one to enjoy self assurance with elegant  perfection which is a normal thing for the charming French allure. I know Nabil Hayari must have spent hours of meticulous hand-guided art in order to make this gown a handcrafted treasure, with a timeless elegance. In fact Nabil Hayari makes beauty and grace seem effortless.
All the lovely Hayari Paris handcrafted, hand embroidered gowns helps the recipients to enjoy all the pleasures life sends their way. Gowns as always, have a regal elegance and soft luxury, and provides exquisite comfort which is a royal addition to any event. The classically designed, beautifully styled evening gowns are be-jewelled, and adorned with French Feathers and Flowers. Hayari Collections are stunning, elegant, highly sophisticated, and with a timeless Beauty No one can predict! Dresses brings  elegance that words cannot explain but only speaks of the tasteful Luxury.  In fact, no matter what time of the year it is, Spring will never be far from your mind with Hayari Paris Clothing Collections.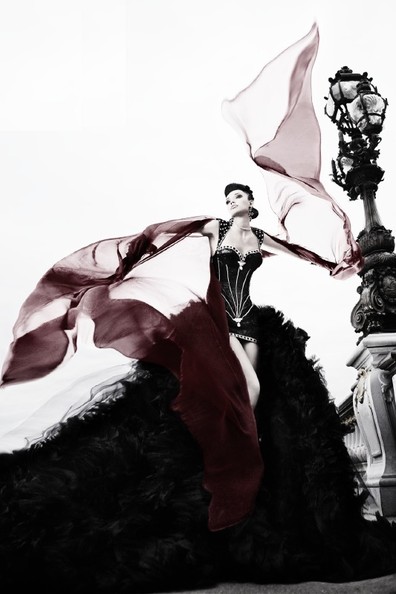 One of Hayari Paris Masterpiece Gowns! Photo Credit: Hayari Paris!

Hayari Collections demonstrates a pride in craftsmanship, although beautifully crafted, these French -inspired pieces have a natural finish. They are delicate, charming, and lovely. Hayari collections will capture anyone's attention with its beautifully designed heavily ornamented gracefully, and detailed embroidered floral finesse.  Hayari gorgeous gowns captures attention with its delicate different shades of colors,  and graces any event with a natural beauty. Their silent serenity piece of gowns are usually a heavenly addition. They have a traditional, lavish style that radiates grace. The dresses adds a romantic glow to any  festival.
"Just like the saying, in the end, art is really about developing a sensitivity to your environment, and making comments about the World you're reliving in a beautiful way."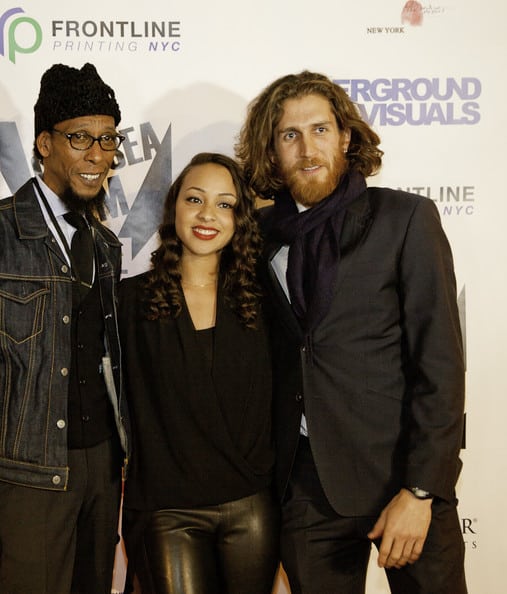 The Cast of The Film "Titus," Ron Jones, Jasmine Jones and the Excellent Director, Charlie Cattrall! Photo credit: Marisol Oberzauchner of Moz Foto Studios!
Hugues Alard and Nabil Hayari creates an endless supply of entertainment ideas for any event, either in Red Carpet evening gowns, pageant outfits, wedding dresses or floral perfumes. Even in event gifting coverage, you can count on these men! Their designs will take your breath away. Hayari Paris have ascended into a walking talking, Entertainment mogul . In Fact, a new breed of Fashion entertainer is born, they are an emerging tribe of Fashion Jet-Setters, seen this year in Hollywood, New York, Istanbul, St Tropez and Paris of course. These two men have single handedly kept alive the Spirit of stylishly, intricately artful custom  designed collections of their gowns and the trio perfumes.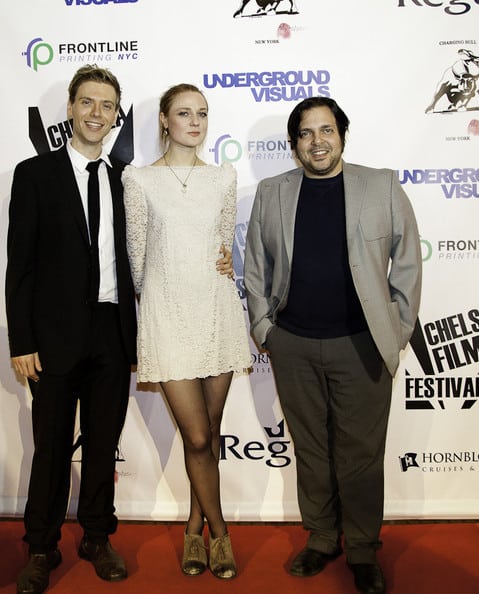 The Cast of the Film, "Broken," by Ilay Ron! Photo credit: Marisol Oberzauchner of Moz Foto Studio!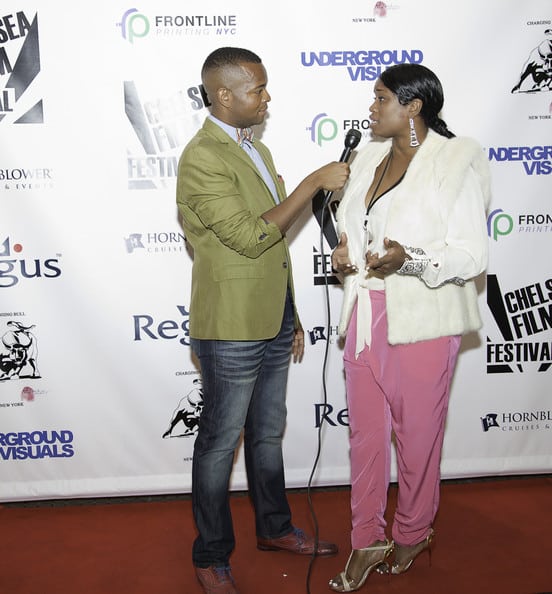 The Awesome Presenter Doice John during the Festival! Photo Credit: Marisol Oberzauchner of Moz Foto Studios!

Just as it was said, Real Glamour is a shine, if you see the shine of a Rhinestone, and the shine of a Diamond, there is a difference if you see the shine of a person who looks beautiful, and has all the artificiality and then you see someone else who has more. You can see the difference. It's sophistication by  Diane Von Finstenberg!
For more information about this Fashion House go to: www.hayariparis.com