Style Apothecary:  I love this fragrance, it is wickedly feminine and like it's name should only be for HER, but of course, given only by HIM!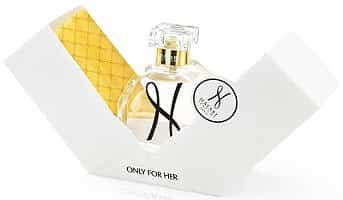 Hayari Paris – Eau de Parfum – Only For Her: $145.00 avail from
CO Bigelow
Created by Robertet's Sidonie Lancesseur (the Nose behind 3 of By Killian's perfumes), this unique fragrance is an homage to the French classic elegance, opening with fruity notes and drying down gracefully onto a velvet bed of patchouli, sandalwood and creamy vanilla. Made in France.
Top Notes: Freesia, Grapefruit
Middle Notes: Magnolia, White Peony
Base Notes: Sandalwood, Pachouli, Vanilla
Miss Style Apothecary… I got a deluxe sample from Hayari and have been wearing for about a week now.. I was on my last spritz at the gym this morning and had to share while the scent is fresh in my mind.. I love this fragrance, it is wickedly feminine and like it's name should only be for HER, but of course, given only by HIM! It is delectable and full of life, it has a seriously decadent scent. The initial scent is floral and citrus.. It is a perfect combination but there is a little warmth to the scent also so I suspect the sandalwood and vanilla are creeping in.. It has a very light kind of Oriental scent to it, I can't quite put my finger on it..  Its very sensual and soft.. I love wearing it and it really makes me feel pretty when I have it on too.. It has a great wear time. I apply in the AM after showering and it takes me straight through to the evening. As it wears the scent does transition and get more warm and less crisp, it has a light powderiness about it too, it is extremely delicate.. It reminds me of the perfect woman! I think this is a dead ringer for a special occasion, whether it be Mother's Day or your wedding day. I am telling you, you are only a compliment away, everyone I have been in immediate contact with loves "Only for Her" they mention that is so pretty and light..
I love the way the scent carries in the light breeze, it allows me to share the scent.. It is so lovely and soft in the fresh air.. I am an "Only for Her" addict.. I admit it.. It is that lovely.. I love have to give Hayari props for the ingenious packaging, it really looks like.. OOOOOoo something amazing is inside.. LOVE!! I also forgot to mention that when I read that this scent was formulated by Sidonie Lancesseur I knew it was going to be good before smelling it.. Sidonie is behind 3 of by Killian scents and if you have ever smelled those blends that you know you are getting an innovative, creative and special scent… Couldn't get any better for me..