SOME INSPIRATION FOR PHILIPPA MIDDLETON FROM HAYARI Couture Paris
Although Pippa's been very intentional about keeping a low profile at the request of the royal family, the younger sister of the Duchess of Cambridge and her boyfriend Nico Jackson have been faced with lots of engagement rumors as of late" declared royal wedding expert Anne Chertoff to Glamour.
Whether traditional, romantic, trendy or even royal…let's have a look at the most beautiful wedding gowns in history!!
HAYARI Couture Paris  Fashion Show – Wedding Gowns Collection
Hayari Couture Paris bridal gowns are designed in accordance with our belief that every bride deserves to be nothing short of stunning when she celebrates the most beautiful day of her life! The dream dress of today epitomizes the contemporary bride who stands in a class of her own thanks to her character and elegance. Whether you are dreaming of a resolutely chic design or a deliciously extravagant style, Hayari Couture Paris guides you through each stage of the creation of your gown, from the very first sketches all the way up to the splendor of your unforgettable wedding day.
FORMAL TRADITIONAL WEDDING GOWNS
[column2]
1953 – JFK and Jackie Kennedy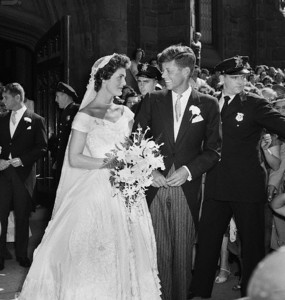 Photo: intheusualway.blog.com
[/column2]
[column2_last]
1956 – Prince Ranier and Grace Kelly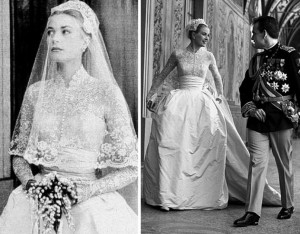 Photo: psclausen.wordpress.com
[/column2_last]
The wedding of Jackie and JFK beautifully exemplified how formal weddings came back into style in the fifties. Jackie Kennedy wore her grandmother's lace veil, a tiara of orange blossoms and a gown stitched from fifty yards of cream faille. The classic formal wedding.
Another example of a formal wedding that influenced millions, is that of American actress Grace Kelly with Prince Rainier III of Monaco in 1956 in what was then called "the wedding of the century."
THE 1960's LOOSEN UP GOWNS
1967 – Elvis and Priscilla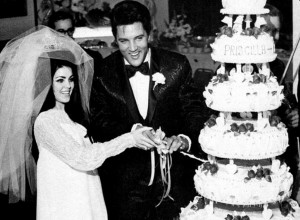 Photo: elvis-tkc.com
Dress hemlines continue to rise loosening the strict formality of the 50s. According to BridalGuide.com, "Gowns in the '60s featured high-waisted empire lines, and many brides wore domed pill-box hats with bouffant veils flowing from the hat."  According to About.com, "Priscilla wore a floor-length wedding gown of her own design: white silk chiffon, with beaded yoke, trimmed in seed pearls and topped with a three-foot tulle veil secured by a rhinestone crown."
PRINCESS GOWNS
[column2]
1981 – Prince Charles and Princess Diana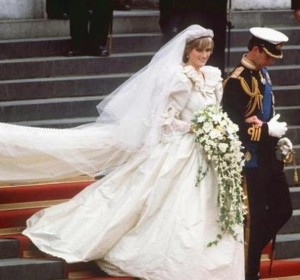 Photo: mix1065fm.com
[/column2]
[column2_last]
1993 – Tommy Mottola and Mariah Carey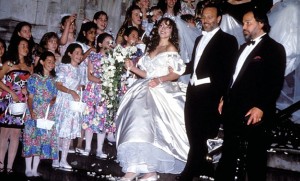 [/column2_last]Prince Charles and Diana's wedding set the tone for the decade with brides seeking a romantic fairy tale, wearing big dresses with flowing sleeves gathered at wrist, "Cathedral trains, lace-edged frills, full-length veils, and oversized bouquets", according to randomhistory.com. Diana's train was 25 feet long!!
Mariah Carey is said by ex-huband Tommy Mottola to have wanted to outdo Princess Diana's famed wedding. Carey's Vera Wang gown was completed with a 27-foot-long train!!
MINIMALISTIC SLEEVELESS GOWNS
[column2]
1996 – JFK, Jr and Carolyn Kennedy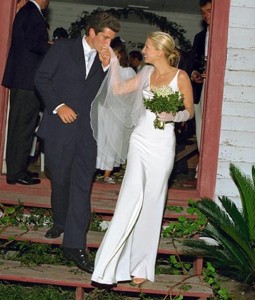 Photo: loveisspeed.blogspot.com
Photographer Denis Reggie
[/column2]
[column2_last]
2002 – Jessica Simpson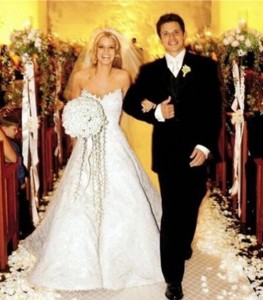 Photo: celebritybridgeguide.com  
[/column2_last]
[column2]
 2011 – Jamie Hince and Kate Moss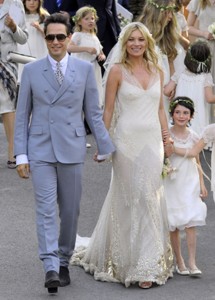 Photo: Flynet Pictures
[/column2]
[column2_last]
Mid-decade a more minimalistic style gained momentum. The tide turned when Carolyn Bessette married JFK, Jr in a slim sheath, bias-cut shift dress. Simpson was right in line with the burgeoning style of a sleeveless gown. John Galliano designed an ethereal vintage-inspired wedding dress for supermodel Kate Moss. The sheer slip dress was made of bias-cut silk and embroidered with gold sequins and beading.
[/column2_last]
SENSATIONAL LACE GOWNS
[column2]
2011 – Prince William and Catheryn Middleton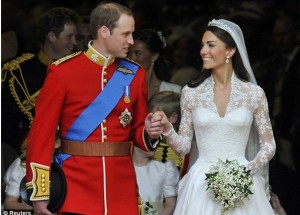 Photo: bbc.com
[/column2]
[column2_last]
2014 – Kanye West and Kim Kardashian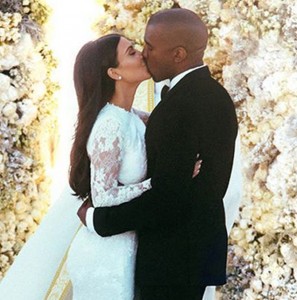 Photo: Kanye West
[/column2_last]    
More and more brides are favouring curve-hugging gowns — the mermaid is one of the hottest silhouettes. But really, anything goes. It's about personal style.