Paris Vogue Fashion Night out 2013, Fashion in Paris!
Fashion's Night Out in Paris, a product of the collaboration between Vogue and the Council of Fashion Designers of America, is sure to bring to the public a night of entertainment, champagne, and celebrities donning the season's most coveted designer garb. The event, dedicated to celebrating fashion, occurs on one night, once a year in 18 different countries and features parties held in over 4,500 participating retail stores.
From Partyearth.com
Stores participating in Fashion's Night Out host parties that often include live entertainment, free swag, celebrity guests, and plenty of booze.
Past parties in Paris have occurred on Avenue Montaigne and Rue Saint-Honoré. The shopping districts of Paris ooze with anyone from designers and stylists to celebrities and models to fashion bloggers and fashionistas. Attendees can often spot Vogue contributors like Carine Roitfeld strutting with 5-inch heels or displays of performers at stores like Chloé. Other participating stores include Dior, YSL, and Celine, along with trend-setting boutiques like Colette.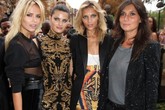 Fashion's Night Out shoppers get the chance to attend in-store book signings, meet designers, and schmooze with celebs all the while ogling beautiful clothes. The occasional musical performance and discounted merchandise are among the many perks of attending Fashion's Night Out. This fashion store-crawl, which first occurred in New York City in 2009 as a precursor to Fashion Week, is a fun way for worldwide consumers to spend and is surely not a night to be missed.
Pop into Chanel to check out their makeup bar, head over to Lanvin to pick up an exclusive iPhone case, and end your night at the Mandarin Oriental, where Chef Thierry Marx has created a special street food menu served at the hotel's Bar 8. Access to participating brands and fashion houses is invitation only, reserved for clients and readers of Vogue. So pick up this month's edition of the mag, which includes the Vogue Fashion Night supplement featuring the full program of events and all the information you'll need about this year's soirée.
Tue 17 Sep, 6-10pm.
fashionsnightout.vogue.fr