Lelounge Privee Has Gowns Fit For A Grand Fête
West Hollywood, CA–  This past Friday Lelounge Privee invited select stylists and their celebrity clients to an exclusive showcase at the Andaz Hotel. From LuxeLifeMag.com
Parisian Haute Couture designers Nabil Hayari and Clarisse Hieraix were on hand to fit special clients who would be attending Oscar related parties over the weekend.  Victoria Secret Supermodel Alessandra Ambrosia attended the event in hopes of finding a special Oscar gown.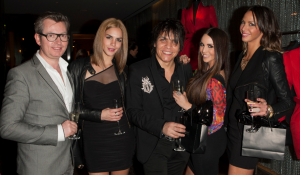 Hugues Alard; Nabil Hayari and Actresses Katie Maloney, Sheena Marie and Katie Doute attend Le Lounge on February 22, 2013 in Los Angeles, California. (Photo by Michael Bezjian)
Guests nibbled on macarons and lux chocolates from Michelle Haut Chocolat and swilled champagne to get into the festive spirit before trying on luxe creations from the events' designers.
Designer Clarisse Hieraix's clientele favored her structured and modern silhouettes while fans of designer Nabil Hayari leaned toward uber-glam and sexy show-stopping gowns. Attendees walked away with goodies from Lierac Paris, Phyto and Michelle Haute Chocolat.