INTERVIEW RICHARD FRAYSSE CARON, FRANCOIS DEMACHY DIOR, THIERRY WASSER GUERLAIN
RICHARD FRAYSSE, Perfume creator de CARON
inICONOfly6 magazine, PERFUME, Diary of an accessory
Going into perfumery…
My grandfather was in perfumery in the early XX century (Yardley's English Lavender) and my father was also a perfumer in the Roaring Twenties (Arpège by Lanvin)… When I was a young boy, my games involved differentiating jasmine from Italy from jasmine from Grasse!
Some scents forever etched in my memory, those of all the fields between Cannes and Grasse, which in May were covered with roses, jasmine, orange trees… and those of the factories filled flowers piled a dozen meters high and into which I enjoyed diving. I wanted to become a Chef, but my father insisted I enter the perfume profession, and I thank him for that.
I feel very lucky my management gives me complete freedom in the selection of my raw materials. Obviously, working for CARON, which was founded in 1904, there is a duty of remembrance and respect. This does not however preclude creativity, modernity and encounters…. Such as these Australians whose sandalwood I use and which is produced on sustainable development plantations that have been planned for the next 50 years in order to sustain the species.
The ultimate dream now is to create a fragrance that would appeal to all mankind. The creation of a fragrance is meant to surprise, it must be magic and create a real shock when the nose first encounters it.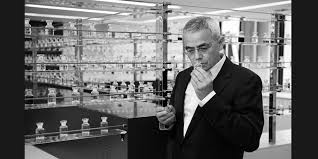 FRANCOIS DEMACHY, Perfume creator for DIOR
A great perfume always has a beautiful story behind it, a true story of desire…
But to think that a perfume is just a harmonious sequence of scents is not true. Perfume actually is an unstable balance of intuitions/aesthetics and technical/Cartesian know-how. Both are needed.
One cannot avoid smelling…When the smell is interesting, it grabs you…. Some notes call and respond to each other. Resonance, Alchemy… these are lovely words to describe them.
Perfumery has been around for thousands of years and one can only notice that traditional techniques still apply nowadays. We have inherited this "savoir-faire".
So much of this traditional savoir-faire is passed on to you when you create perfumes for a renown perfumery house, that you ought to keep this legacy alive and share it.
It is a duty to respect fragrances, raw materials composing them, people who participate in their making and all who wear them. The most important is to preserve the quality of raw materials and it is up to the perfumer to enforce this.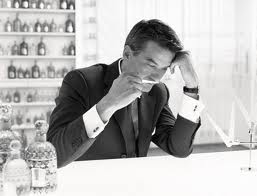 THIERRY WASSER, Parfumeur de GUERLAIN
I like to tell a story, put my heart and soul into it.
I travel extensively for the purchase of natural raw materials, vetiver in India, roses in Iran and even Bulgaria, vanilla in Tahiti, Madagascar and Mexico… these journeys and the' people I meet along the way induce emotions and creative thoughts which in turn inspire me.
The bottle and the scent must correspond to each other. It is a magnificent exercise that requires poetry, substance and humour. Before Robert Granai, there was Raymond Guerlain, Jacques' cousin, and then Serge Mansau with Insolence, Ora Ito with Idylle and more recently Jade Jagger with Shalimar.
The founder of Guerlain, Pierre-François Pascal, had a famous saying in 1828: "Make good products, never compromise with quality. For the rest, have simple ideas and apply them scrupulously." I remember this quote because I am as interested in, and attracted to, both the manufacture of perfumes and the purchase of raw materials. It is the only way to guarantee the quality that has been our company's for the last 183 years.
Paradoxically, chemistry has not replaced nature but allows the expression of unique facets in fragrances belonging to a dream-like and abstract world.
We must keep up with our times and all my predecessors have done so as the great inventors they all were.