Inspiration for the collection of Wedding Dresses 2015
The 2015 HAYARI PARIS Bridal Gowns collection features flowing dresses decorated with skillfully chosen lace. To discover Nabil HAYARI collections, you are invited to make an appointment for a dress fitting session at the showroom, if you want to make your unique dream dress come true.
Nabil HAYARI's talent will be at your service for a design combining his expertise with your ideas in order to create the gown that suits you best.
With his experience, Nabil HAYARI promises to carry out a creation that will reflect his craftsmanship and bring to life a dress that matches your wishes.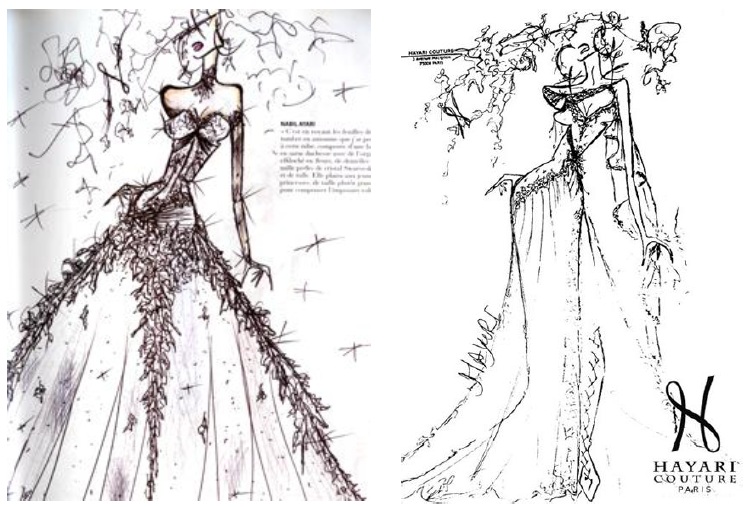 Whether you fancy a sheath gown with a short train or a wedding dress with a long tail, every detail will be given careful attention and stem from rich inspiration, should you chose a romantic or modern style.
Were it to be a custom-made romantic inspired gown or a wedding dress with a modern elegance twist, your dress will always be a heart-stopper and reflect what you had in mind.
All dresses are designed and embroidered by hand, using the highest quality fabrics, such as delicate silks or French Calais lace. Each dress cut is original and meets the requirements and standards for custom-made work in line with the traditions of the most renown Fashion Houses.
HAYARI PARIS performs this work of Luxury craftsmanship via its showroom.
All through the dress fittings Nabil HAYARI will present you with the progress of your custom-made dress.
This unique wedding dress will be the symbol of your dreams and allow your special day to be as successful as possible.
Garantor of quality, HAYARI Paris is one of the founding members of the Couture Custom-made Creators Federation of Paris called ' Signé Couture Paris '.
HAYARI PARIS creations were among the best designs crowned during the Couture Fashion show at the Carrousel du Louvre and noticed by numerous magazines such as Madame Figaro Mariage, OUI Magazine, Marions-Nous.
For all queries, including deadlines for creating your wedding dress, please dial 00 33 1 45 63 45 83