HAYARI Parfums Paris' Fragrance Trilogy – The Sweet Smell of Success
By Nicole Muj
This year's red carpet season was marked by gorgeous gowns, glittering gems….. and seductive scents. HAYARI Parfums Paris was the highlight of the 2013 award season celebrity gifting suites, where designer Nabil Hayari's trio of signature fragrances was unveiled.
The Parisian couturier known for his bejeweled and intricately hand embroidered bespoke eveningwear, has created iconic, one-of-a-kind gowns for the world's top models, actresses, royals and jetsetters, under the HAYARI label since 2009.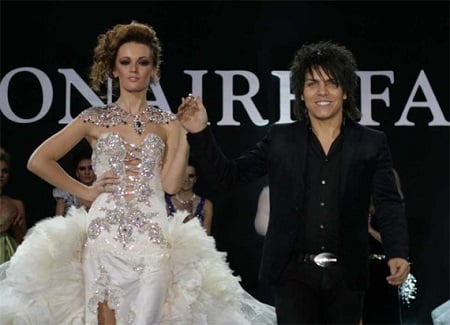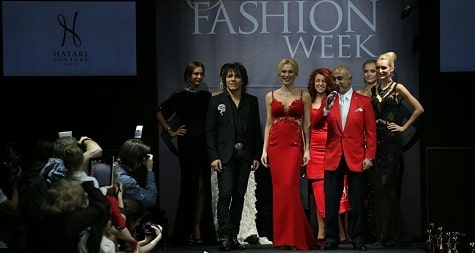 In 2011, Nabil ventured into the world of fine perfumes, to enhance his haute couture line.
He comments, "much like a collection of fine jewelry adorning a woman's style, they [fragrances] become ultimate accessories to an elegant feminine look."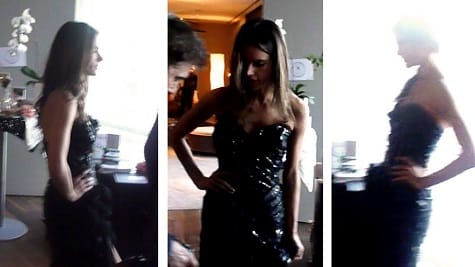 Supermodel Alessandra Ambrosio in HAYARI Couture Paris
Thus, HAYARI's first fragrance "Only For Her" was born. He explains, "I dedicated an entire collection to the beauty of white flowers such as peonies, gardenias and magnolias…. Seeing these flowers so beautifully embroidered on the dresses made it obvious that we had to take this a step further developing a matching fragrance. The blend of these white flowers deliciously exhaled and gave birth to HAYARI Paris' first fragrance: 'Only For Her'."
Just as the artist transforms exquisite fabrics into flowers, Nabil has effortlessly transformed natural flowers into fragrances. HAYARI's trio of perfumes includes the subtle, elegant and sensual "Only for Her," the exotic, fruity and glamorous "Goldy," and my personal favorite, the romantic, dreamlike "Broderie," nominated this year for a prestigious FiFi Award, recognizing achievements in the fragrance industry.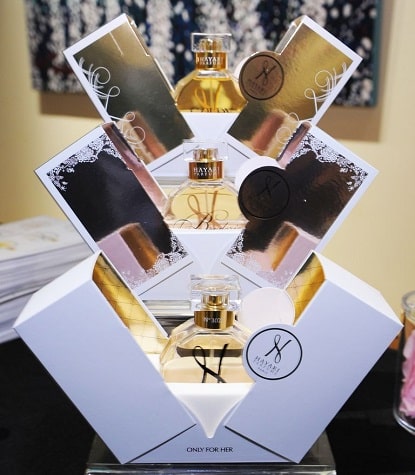 When asked about his inspiration, Nabil is quick to answer, "Iconic actresses, such as Grace Kelly, and more recently, the superb Nicole Kidman fully embody the personality of Hayari Paris' spirit."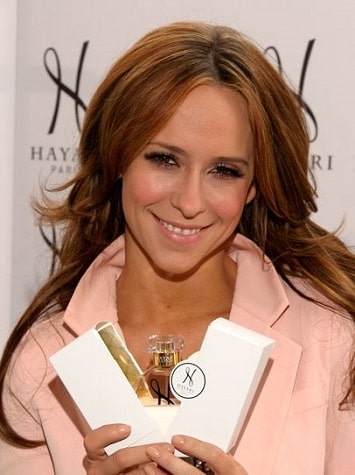 HAYARI Parfums Paris' collection of fragrances is now available exclusively in New York City at C.O. Bigelow, the oldest apothecary in the US, and online at www.bigelowchemists.com/brands/hayari_paris.html/
Additional luxury retail outlets will be added over the coming year and next, via North American distribution partner Crafting Beauty.
What's on the horizon?…. Gents will be the focus as HAYARI plans to launch a signature collection of men's fragrances. Wonderful news for the men in our lives!
Photos Courtesy of HAYARI Parfums Paris.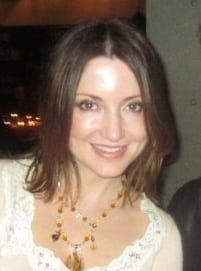 Nicole Muj
Nicole Muj is the founder of KULTURA PR (kulturapr.com), a public relations company that specializes in international entertainment and cultural clients. Ms. Muj is also involved in booking A-list Western music artists and celebrities in Europe, Mexico and Asia. Previously, she served as Associate Director, Worldwide Publicity, E! Networks, and held senior level positions at LA-based mPRm Public Relations and Comspan Communications.
Contact – email: nicolemuj@hotmail.com; phone: 310-804-0964