Film d'ouverture
Baz LUHRMANN
THE GREAT GATSBY (H.C.)             (GATSBY LE MAGNIFIQUE)
Valeria BRUNI TEDESCHI
UN CHÂTEAU EN ITALIE
Ethan COEN, Joel COEN
INSIDE LLEWYN DAVIS
Arnaud des PALLIÈRES
MICHAEL KOHLHAAS
Arnaud DESPLECHIN
JIMMY P. (PSYCHOTHERAPIE D'UN INDIEN DES PLAINES)
Amat ESCALANTE
HELI
Asghar FARHADI
LE PASSÉ
James GRAY
THE IMMIGRANT
Mahamat-Saleh HAROUN
GRIGRIS
Jim JARMUSCH
ONLY LOVERS LEFT ALIVE
JIA Zhangke
TIAN ZHU DING             (A TOUCH OF SIN)
Abdellatif KECHICHE
LA VIE D'ADELE – CHAPITRE 1 & 2
KORE-EDA Hirokazu
SOSHITE CHICHI NI NARU             (TEL PERE, TEL FILS)
Takashi MIIKE
WARA NO TATE             (SHIELD OF STRAW)
François OZON
JEUNE & JOLIE
Alexander PAYNE
NEBRASKA
Roman POLANSKI
LA VÉNUS À LA FOURRURE
Steven SODERBERGH
BEHIND THE CANDELABRA             (MA VIE AVEC LIBERACE)
Paolo SORRENTINO
LA GRANDE BELLEZZA             (THE GREAT BEAUTY)
Alex VAN WARMERDAM
BORGMAN
Nicolas WINDING REFN
ONLY GOD FORGIVES
***
Film de clôture
Jérôme SALLE
ZULU (H.C.)
DISCOVER, PROMOTE, SUPPORT
Awarded for the first time in 1955 to the film Marty directed by Delbert Mann, the Palme d'or replaced the Grand Prix, which had been awarded to the best film In Competition until then.
→ "The aim of the Festival is to encourage the development of the art of filmmaking in all its forms, while fostering and maintaining a spirit of collaboration among all filmmaking countries" (extract from the Festival policy, 1948.)
In the 1960s, two independent selections were created in parallel to the Official Selection: the Semaine Internationale de la Critique in 1962 and the Directors' Fortnight in 1969.
Before 1972, the films that competed in the selection were chosen by their country of origin. From 1972 onwards, however, the Festival asserted its independence by choosing the films that would feature in the Official Selection for itself.
In 1978, Gilles Jacob was appointed General Delegate. That same year, he created the Un Certain Regard selection and the Caméra d'or award, which goes to the best first film presented in any of the selections.
The Leçon de Cinéma (Film Masterclass) was delivered for the first time in 1991 by Francesco Rosi. Since then, a number of other famous directors have taken their turn to talk about their artistic career and their views on film. Similarly, the first Leçon de Musique (Music Masterclass) was given by Nicola Piovani in 2003 and the first Leçon d'Acteur (Acting Masterclass) was delivered by Max Von Sydow in 2004.
→ In 1997, on the 50th anniversary of the Festival de Cannes, the world's greatest directors came together on stage to award the Palme des Palmes to Ingmar Bergman.
In 1998, Gilles Jacob created the Cinéfondation, a selection for short and medium-length films produced by film schools from around the world. This entity grew in 2000 with the opening of the Résidence, a place where young directors can come to work and complete their screenplays. It expanded further in 2005 with the creation of the Atelier which helps some twenty directors to secure funding for their films each year.
Important heritage films, which used to be screened as thematic retrospectives, have, since 2004, been presented at Cannes Classics, a selection that presents restored copies, tributes to filmmaking and documentaries about cinema.
→In 2007, to celebrate 60 years of the Festival de Cannes, 33 of the world's greatest directors were invited to take part in the anniversary film, To Each His Own Cinema, each shooting a 3-minute short film about the rooms in which films are projected in cinemas.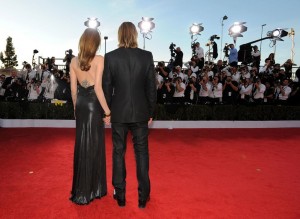 Since its creation in 2010, the new section entitled Cannes Short Film has grouped the Short Film Competition and the Short Film Corner in a complementary dynamic that aims to offer an overall view on the worldwide production of shorts.
BRINGING FILM PROFESSIONALS TOGETHER
With the creation of its Marché du Film in 1959, the Festival took on a professional dimension that encouraged networking and interaction between all those involved in the film industry. Also worthy of mention are the Producers Network, which provides producers from around the world with a forum for discussing their projects, and the Short Film Corner, an area dedicated to short films, both of which were launched in 2004. Also, in continuing the same tradition as Documentary Brunch, acclaimed since its inception in 2008, Doc Corner was inaugurated in 2012.
→ The Marché initially attracted a few dozen participants and offered a single screening room. Today, 10,500 buyers and sellers from around the world flock to Cannes every year, making it the number one international market for film professionals.
When it opened back in 2000, the Village International, which showcases film industries from around the world, hosted 12 countries and 14 pavilions. Twelve years later, it accommodated 60 countries in 65 pavilions located around the Palais des Festivals.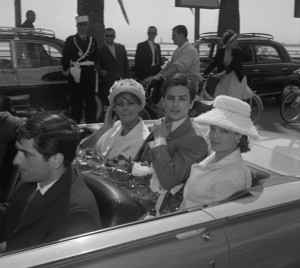 HEADING UP THE FESTIVAL
In 2000, Gilles Jacob was elected President of the Festival by members of the Board of Directors. He replaced Pierre Viot, who had been in the role since 1985 and who had himself taken over from Robert Favre-Le Bret. From 2001 to 2005, Gilles Jacob was supported by Véronique Cayla, the Managing Director, and Thierry Frémaux, the Artistic Director.
In July 2007, Thierry Frémaux was appointed General Delegate by the Board of Directors.
 In 2012 Hayari dressed Celyne Durand
After 12 days of eye candy, Cannes Film Festival has sadly come to an end.
We had several hits, a few misses and a big disappointment.
Eva Longoria lived up to her 'Eva the Diva' tag which we gave her back in 2009. She may not be everyone's cup of tea, but she lights up the Cannes red carpet like no other.
As I have listed my favourites day by day, I have just listed my top 3 from the event above.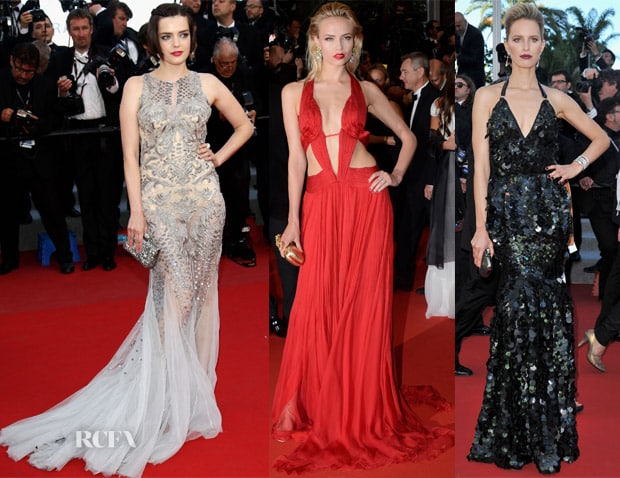 2012 Cannes Film Festival Most Worn Designer – Roberto Cavalli Roberto Cavalli outfitted the most ladies again this year. His special one-off pieces and stunning gowns from the archives seem to flourish during Cannes. It seems that they just belong on the Palais des Festivals.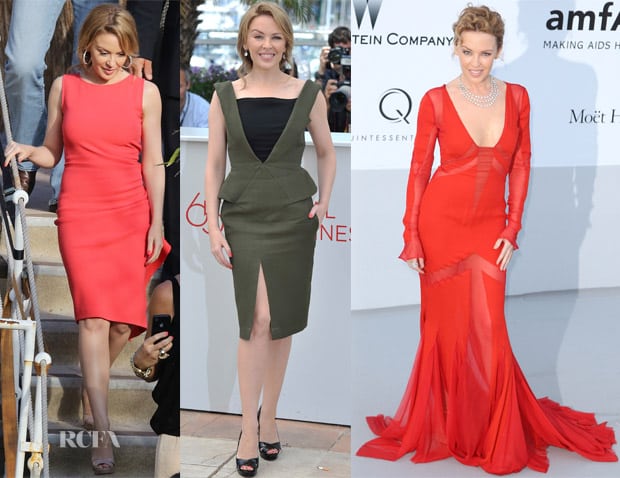 Cannes Brand Ambassador – Kylie Minogue for Emilio Pucci Kylie has been a long-time fan of Peter Dundas' sexy Pucci dresses, so it was no surprise that she wore several of his pieces during Cannes.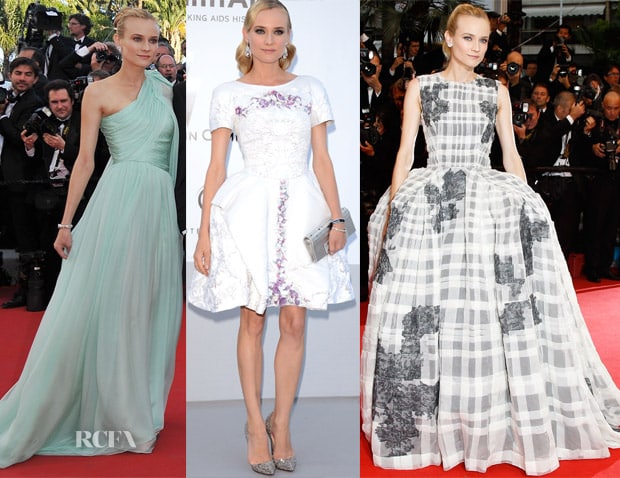 Queen of Cannes 2012 – Diane Kruger This was a no-brainer. I could have written this before the festival. As many of you said, we ran out of superlatives to describe how much we were in awe of how amazing Diane Kruger was for during Cannes Film Festival by Day 4. She started in couture and ended in couture; the only thing missing at the closing ceremony was her crown. The organisers will have a tough job finding someone to succeed her next year.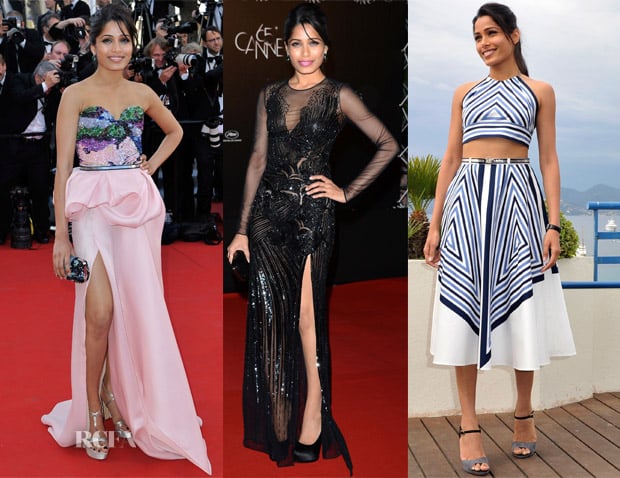 Honorable Mention – Freida Pinto I wasn't expecting anything from Freida Pinto. Be honest, you weren't either. Even with her shakey shoe start, Freida dazzled on the red carpet in Atelier Versace, Ferragamo and Michael Angel.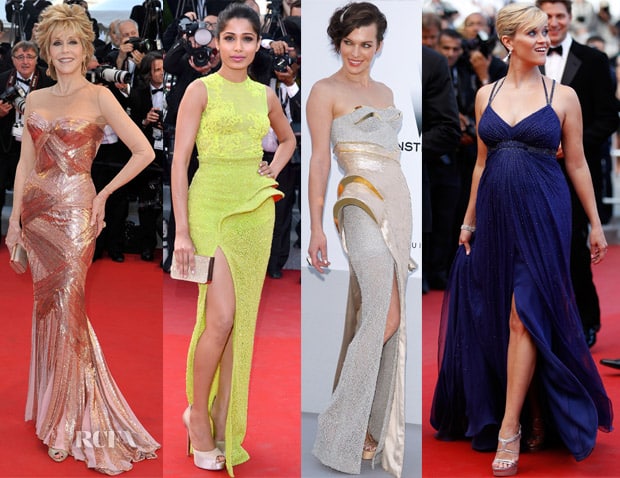 Couturier of Cannes Film Festival 2011 – Atelier Versace My personal highlight of Cannes 2012 was crossing two Atelier Versace gowns off my wish list. Jane Fonda, Freida Pinto, Jada Pinkett Smith, Milla Jovovich, Rose McGowan and Reese Witherspoon all donned Dontella's designs. She started dressing a 74-year-old beauty and ended with a stunning
and 2013?