Who draw the so famous sketch and enter in Legend? Bob Mackie signed on paper contemporary sketch of Marilyn Monroe in her 1962 Jean Louis designed gown. It was Mackie's first job in Hollywood. At the time he drew the original sketch, he did not know who the gown was for. The 22 year-old Mackie, under Jean Louis' direction, spent his days drawing sketches of Marilyn Monroe for her role as Ellen Arden in the unfinished film Something's Got To Give (20th Century).
Bob Mackie is know to like dressing collector's edition Barbie dolls.and the star Cher
His first meeting with Cher is a good remember:
" She looked different than everybody else … fur vests and bell-bottoms, it was all new at the time. I'd seen photos and thought she was this big hulking girl. She and Sonny were booked on The Carol Burnett Show in 1967. She came in to see me and I went, "Oh, my God. This girl is so beautiful and little."
I mean, she was like Audrey Hepburn. She had good shoulders, a long neck, a long body and just photographed like a dream.
"I dressed her up for the Showboat finale, and I remember I was sitting in the hallway trying to fix some thread that had come loose on a dress. She came over and said, "One day, when we can afford it, I'm going to have a beaded dress." I told her, "I'm ready when you are!"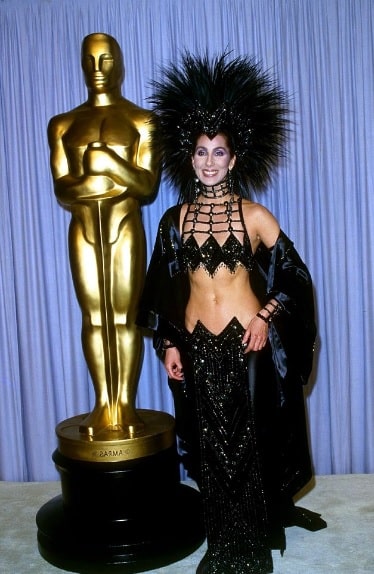 A true artist. His designs are bold, elegant, feminine & very colorful. He still designs and sells
He is famous for dressing entertainers such as Cher, Carol Burnett, Diana Ross, Barbara Eden, Bette Midler, Judy Garland, Liza Minnelli, Tina Turner, Joan Rivers, Whitney Houston, Pink, Sharon Stone, Beyonce, Goldie Hawn, Barbra Streisand, Bernadette Peters, Lucille Ball, Ann-Margret, and Mitzi Gaynor.
Since they know each other there is a Great complicty between Bob Mackie and Nabil Hayari.
Recently Melissa Rivers gave a hilarious and touching speech, honoring the legendary Bob Mackie for Outstanding Achievement In Costume Design & Styling durong the third edition of Hollywood Beauty Awards in Los Angeles.