AmfAR Gala 2013 à Cannes et la soirée De Grisogono, succès pour Hayari
Le gala AmfAR 2013 s'est tenu à l' Hôtel du Cap-Eden-Roc au Cap d'Antibes avecune défilé intitulé The Ultimate Gold Collection Fashion Show organisé par Carine Roitfeld qui a choisi les 40 meilleurs modèles, résesantant sur le tapis des look ors. Les plus grandes stars ont pris place pour cet évènement, parmi , Sharon Stone, Janet Jackson et Milla Jovovich,  Jessica Chastain, Heidi Klum, Andrien Brody.
Pour cette évènement, Mélanie Mar était habillé par Hayari Paris.
La veille, Parmi les 5 plus belles robes était celle d'hayari au cours de la soirée du bijoutier De Grisogono :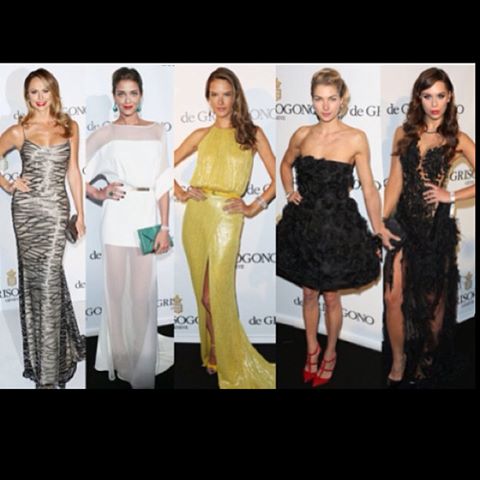 Stacy Keibler – Ana Beatriz Barros – Alessandra Ambrosio – Jessica Hart – Liliana Matthaus habillée par Hayari Paris
Au festival de Cannes, il n'y a pas que les marches ! Il y a aussi l'Eden Roc, théâtre des soirées les plus prestigieuses, et inaccessibles ! Quelques jours avant le gala de l'Amfar, stars, top models et invités triés sur le volet, Sharon Stone en tête, s'y  pressaient déjà pour fêter les 20 ans de la marque de joaillerie genevoise De Grisogono. Son président fondateur, Fawaz Gruosi, avait orchestré pour l'occasion une somptueuse soirée « Séduction à Cannes », à l'image des valeurs de la maison : « perfection, glamour, passion and of course surprise ». Au programme : défilé de la collection anniversaire de haute joaillerie surplombant la mer mis en musique par un orchestre de 36 musiciens, dîner de 500 couverts, performances des Gold Singers et d'Evdokimov Show, concert de Red Foo et LMFAO et enfin, dj set de Julio Santo Domingo, jusqu'au lever du soleil !