Eaux de Toilette Source Joyeuse, Inspiration.
The new unisex collection of Hayari Paris « Eaux de Toilette » was designed by Nabil Hayari and Hugues Alard, with a particular emphasis on the French savoir-faire and long history.
On one hand, the idea was to set the tone for the trilogy couture by paying homage to the reputable fabrics that have been the pride of France, the toile de Jouy. These fabrics have been manufactured in the Jouy workshops in Josas near Versailles since the 18th century, and symbolize the French art and tradition.
On the other hand, each raw material, manufactured in Grasse, is carefully selected and must meet the very high quality standard of the brand.
And finally, a new bottle with its avant-garde case call to mind the beauty and the secrets of music boxes, and draw men and women into the harmonious flow of their tender effusions.
Few words related to this last fashion show…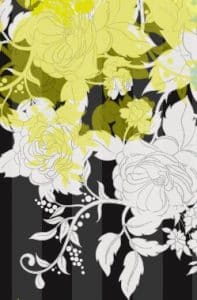 PAYING HOMAGE TO THE FRENCH SAVOIR FAIRE
– The Toile de Jouy, noble fabrics as all others used in couture by Hayari Paris, and used for happy story tellings.
– Premium raw materials, and evoking the peculiarities of the southern part of France and its unique and inspiring products.
A multifaceted name to symbolize the sharing and the origin of the inspiration : « Source Joyeuse » (Happy Source)
– A luminous bottle, reminder of the preceeding prestige collection, that is made with Crystal glass with the brand's emblem « H » engraved in the back. The bottle also comes in a size that can be easily carrried around.
– A cylindrical case that opens like a music box, reflective of the atmosphere of an opera as the famous parisian one, which has been used for the advertising campaign.
Sharing our savoir-faire by giving the best of self