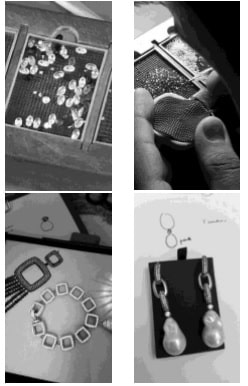 To create jewellery lines, Nabil Hayari was inspired by women, but also by history and travels.
First, his jewellery is mostly thought for fashion shows; To complete the possibilities to wear his fashion daily, he wanted to draw four new themes for this season.
Handmade, the creations are elaborated in the French tradition, to guarantee elegance and quality.
You can find here more pieces here
Hong Kong pearls, zirconium, silver… Every material reflect luxury, modernity and character.
For his collection, Nabil Hayari wished to pay tribute to his muses by creating Charlene de Monaco, Alisa Krylova and Penelope Cruzlines.
The designer also wanted to do a parallel with his latest fragrance NEW OUD with the "Mille et Une Nuits" line: a blend of the West and of the East, while keeping the Parisian elegance.
Emblem of the brand, the collection is complemented by the bracelet "H" Hayari.
An perfect collection to sublimate women in everyday life and that will fit perfectly with all styles, for the most prestigious or daily occasions.