Hayari Paris in Hollywood !!
From Karen Bystedt to Melanie Mar, celebrities all want to wear one of Nabil Hayari's  « entrance-maker » on the red-carpet !!
It has been a very busy week for famous french couture designer Nabil Hayari.
In Hollywood to launch his collection of elegant and feminine French fragrances –ONLY FOR HER, GOLDY and Broderie–  Nabil Hayari was delighted to seize this opportunity to celebrate the Oscars with the stars and dress some of the most beautiful women for their Red-Carpet moment.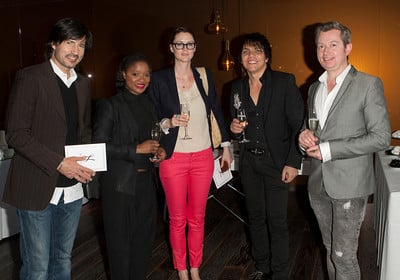 Karen Bystedt  made a dramatic entrance at the starry party reception which was held at the  PRISM Gallery, prior to the public opening of Mario Testino's first stateside exhibition in seven years.
Put simply, the PRISM Gallery is one of the hippest places to view art in the one of the country's most fashionable cities, which makes it the perfect venue for Testino's much-anticipated U.S. revival!!
Looking fabulous in HAYARI Paris, she mingled with fashion notables  like designer Zac Posen and Carolyn Murphy who were in the house to honor the fame photographer's first LA show, as were top models like Alessandra Ambrosio, A-listers like Marisa Tomei, pop stars like Miley Cyrus and a very pregnant Kim Kardashian.
Watch scenestertv's interview of Karen Bystedt, dressed in Hayari Paris,  at the OScar Beauty Gala, minutes before the PRISM Gallery's party:
http://scenester.tv/2013/02/the-lost-warhols-collection-interview-w-artist-karen-bystedt/
All week long, Melanie Mar has mesmerized Hollywood as she wore HAYARI Paris' sumptuous designs to pre-Oscars parties :
Invited at a fashion bash Tom Ford threw at his Beverly Hills store last thursday, Melanie, dressed in « an incredible HAYARI Paris gown », mingled with fashion and film folks in the run-up to the Oscars night. Guests included nominee Tommy Lee Jones, Elton John and David Furnish, Mario Testino, Liberty Ross, "Girls" star Allison Williams, Patricia Clarkson, Estée Lauder's John Demsey, CNN's Alina Cho, former Viacom honcho Tom Freston and Matthew and Nicole Mellon.
Later in the week, Melanie Mar attended  the Weinstein Company and Chopard's pre-Oscar party held at the exclusive Soho House in West Hollywood. Dressed in one of Nabil Hayari' stunning creations, she politely sidestepped a string of male admirers !! Also attending the party were, Kate Perry, Olivia Munn, The Killing's Joel Kinnaman , Swede Alexander Skarsgard, Abbie Cornish ,cap-wearing Leonardo DiCaprio, Glee's Chord Overstreet, Zoe Saldana holding hands with beau Bradley Cooper, Michelle Williams' best friend Busy Philipps, Felicity Jones, Casey Affleck, Scarlett Johansson, Emile Hirsch, Jeremy Piven, Justin Bartha, Juno Temple (with boyfriend Michael Angarano), Andrea Riseborough, Malin Akerman, Alicia Silverstone, Chris Evans, and his brother Scott.
Interviewed by fashiontvabout her sumptuous gowns as she supported the event « Artists for Peace and Justice », Melanie Mar, dressed in HAYARI Paris head-to-toe, ended the week  turning heads at the OK magazine pre-Oscar party held at the Emerson Theatre held last Saturday night (February 23) in Los Angeles.